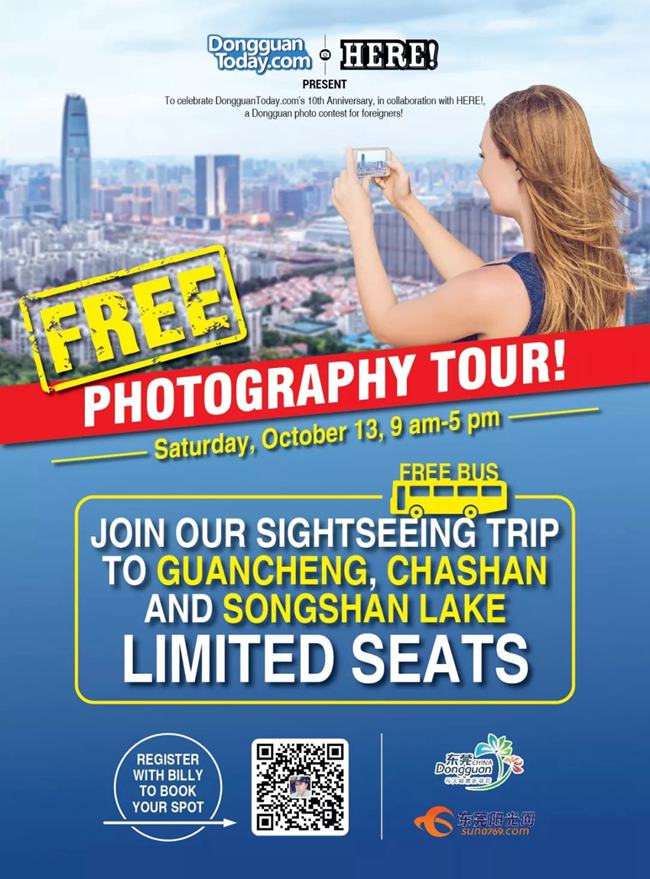 We have received a number of masterpieces from expats since we announced the photo contest, Dongguan through Foreign Eyes Photo Competition in early September. To serve this purpose even better, we are going to invite all foreigners for a photography trip around Dongguan on October 13. Limited seats and free of charge!
We are going to show you around historic ancient villages and to areas of outstanding architecture in Dongguan. We will experience the traditional intangible cultural heritage of Dongguan closely, taste traditional local food, visit exquisite scenic ecological parks. For photography enthusiasts it will be a fantastic oportunity to understand and capture the beauty of Dongguan, the city you live in and love.
Even if you are not so into photography, it will still be a fun activity packed with culture and beauty that this city has to offer, perfect for anyone wanting to explore a bit. Don't miss out and make sure to bring your camera or smartphone for plenty of photos!
Not only can we view prospects of Dongguan from various perspectives, but we can see how much Dongguan has changed over the years, and how it has become a dynamic home for many.
Join us and have an unforgettable trip!
Learn more about the photo contest>> (http://z.sun0769.com/2018/wgryzdmldg/)
DATE / TIME:
October 13, 8 am - 5:30 pm
HOW TO JOIN:
Click here to register. (http://form.sun0769.com/index.php?c=form_meilidongguansheying)
FREE of CHARGE!
WHERE TO MEET UP:
The front gate of Dongguan Stadium