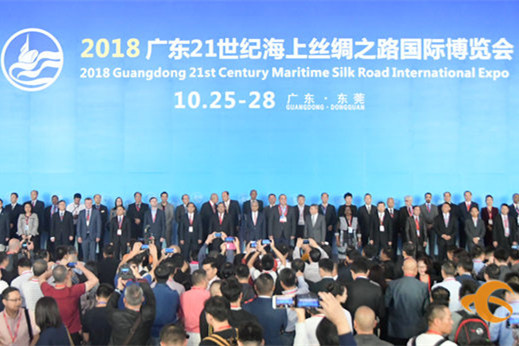 The 2018 Guangdong 21st Century Maritime Silk Road (MSR) International Expo kicked off in Dongguan on October 25th. Covering an area of 70,000 m2, the expo is hosting 1,732 exhibitors including 1,221 overseas enterprises and organizations from 57 countries and regions.
Over 1000 participants including Chen Liangxian, vice governor of Guangdong, Fahri Hamzah, deputy speaker of the People's Representative Council (DPR) of Indonesia, and officials from the Consulate Generals of different countries in Guangzhou attended the opening ceremony.
This year marks the 40th anniversary of the China's reform and opening up and the 5th anniversary of the "Belt and Road" Initiative. Chen Liangxian explained how Guangdong has promoted friendly cooperation with countries and regions along the Belt and Road.
The MSR Expo was first held in 2014 with a total number of visitors in the past four sessions reaching 694,500. It has become a significant platform for exchange & cooperation between Guangdong and countries and regions along the Belt and Road.
Through this platform, the network of facilities has been improved and the trade cooperation is enhanced. From 2013 to 2017, the total import and export volume of both sides increased from 1.1 trillion yuan to 1.5 trillion yuan, with an average annual growth rate of 7.8%.
This year's expo includes an exhibition on the maritime silk road and four specialised exhibitions displaying the culture, customs, tourism, food, artifacts and other featured products from all participating nations at the Guangdong Modern International Exhibition Center in Houjie, Dongguan .
It is the fifth consecutive year that Thailand has participated in the expo. More than 40 Thai companies attend this event, bringing a variety of products including Thai herbal products, silk, household appliances, decorations, cosmetics, beverage, food and so on.
"This is my first time to participate in the expo. In less than two hours, I have sold more than 50 products," said Khun Pisit from Bangkok. Through this trip, he looks forward to further enhancing the influence of their brand of herbal products and find potential partners to further explore the Chinese market.
On October 26th, the expo is holding a forum on the construction of the Guangdong-Hong Kong-Macao Greater Bay Area and the Belt and Road Initiative at Guangzhou Baiyun International Convention Center.
Reported by Will