On 13th March, Dongguan COVID-19 Prevention and Control Command announced that going forward all catering service businesses are allowed to provide restricted dine-in services.

Restaurants are required to conduct a comprehensive and thorough cleaning and disinfection of the business premises, equipment, facilities, and catering utensils before resuming dine-in services. Tables and chairs must be disinfected immediately after they have been used, and may not be used for 10 minutes after cleaning. The dining area must be well ventilated.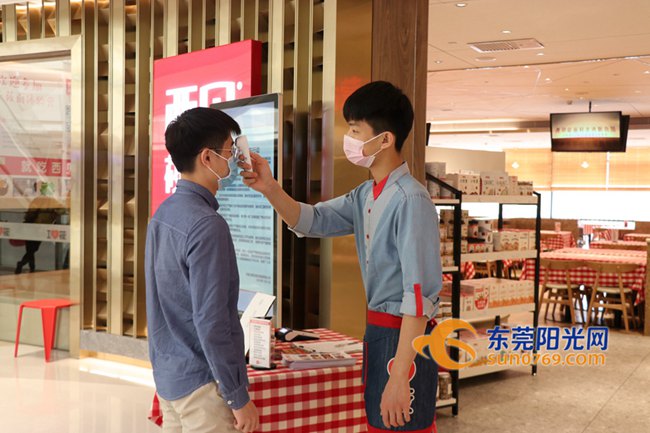 Customers have their temperature taken before they may enter the restaurant.
Customers need to have their temperature taken before they may enter the restaurant. Those with a temperature exceeding 37.3℃, or displaying other abnormal symptoms, will not be allowed to enter. In addition, customers should also confirm that they have declared their health condition through the Dongguan Healthcare QR Code (莞e申报) before entering.
Catering companies are also required to reduce the number of tables and chairs in the lobby and ensure that the minimum distance between diners at each table is not less than 1 metre. Sharing a table with strangers is strictly forbidden. Each VIP room may have only one table. The restaurant should have a separate entrance and exit if possible. It is strictly forbidden for crowds to gather together, and people waiting at the entrance should maintain a safe distance of at least 1 metre.
Finally, although limited dine-in services have resumed, large-scale dining activities are still not allowed until the epidemic is over. It is encouraged to opt for a takeaway service, or make a reservation at non-peak hours, and to use a contactless payment method when settling the bill.