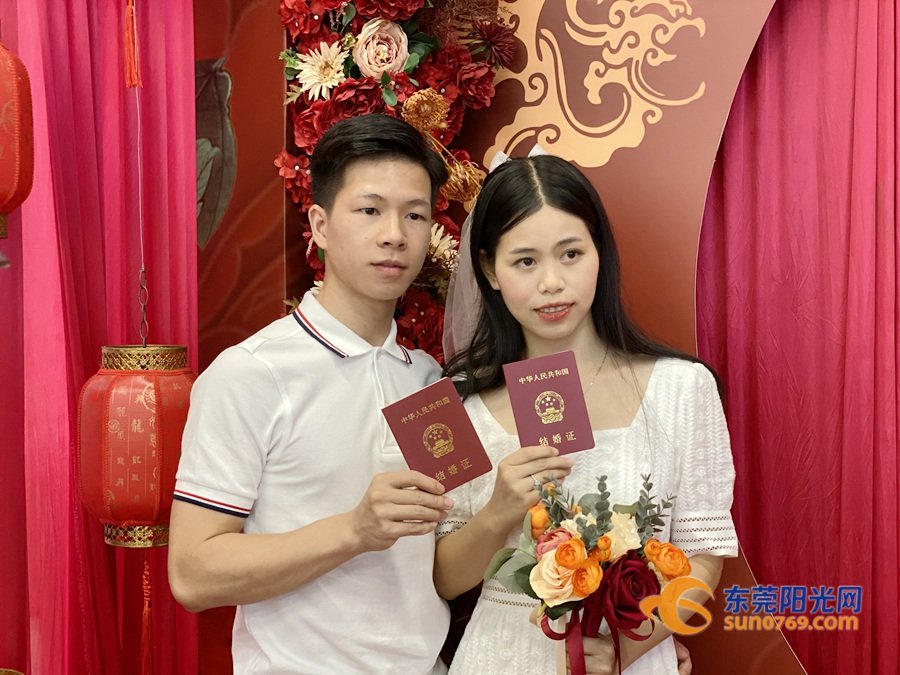 Newlyweds show their marriage registration certificates at the Dongguan Marriage Registration Centre, 25th August, 2020.
According to China's lunar calendar, 25th August is the seventh day of the seventh month and a traditional Qixi Festival, also known as Chinese Valentine's Day. Many young couples choose to marry on this special day as a good omen.
On this day, Miss Sun and her boyfriend went to the Dongguan Marriage Registration Management Centre. "Qixi is a meaningful festival to Chinese. That's why we chose today to register for marriage," said Sun.
After the registration, Miss Li and her husband took a sweet selfie with their marriage certificates in hands. "Today is not only Qixi Festival, but also my husband's birthday. We decided to register today to make this day even more meaningful," said joyful Li.
The Dongguan Marriage Registration Management Centre prevents gatherings and excessive crowds by implementing a booking reservation system. Queuing on location is not permitted. Couples have to wear a mask, show their health code and have their temperatures taken before entering the centre. According to the statistics, 81 couples made an appointment for marriage registration at the Centre that day.
The Centre cancelled ceremonial activities and limited the number of accompanying persons as an epidemic preventative. Parents and friends of couples could accompany, but no more than four people in total. All are required to show their health code and have their temperatures taken.
To provide a good memory for the newlyweds, the Centre made an extra effort on this special day. After receiving their marriage certificates, newlyweds were given DIY gift boxes and cards, making a wonderful wedding gift.