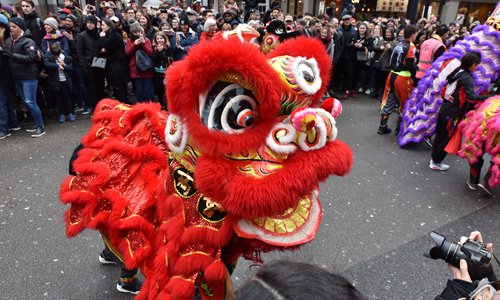 The lion dance proves a hit among visitors joining in celebrations of Chinese Lunar New Year in Chinatown, London, the UK. Photo: VCG


A series of cultural events and lively programs including music festivals, parades and lion dances featured in the 2019 Spring Festival celebration period in major cities around the world, providing Chinese families overseas with a chance to experience the joy of this traditional time of year.

Chinatowns in many cities were immersed in festival atmosphere and streets were adorned with colorful lanterns and dazzling decorations.

Street lighting events marked the opening of the annual Spring Festival celebrations in many places, and a number of traditional Chinese cultural shows were staged by performing troupes from both local and overseas communities.

Paper cutting and pig-mask making celebrating the arrival of the Year of the Pig entertained many children and their families.

A gala celebrating Chinese Lunar New Year was held in Frankfurt, Germany. A performance was also held in Ukraine, with a concert staged by Chinese and Ukrainian students designed to promote cultural exchanges between the two countries.

Celebratory events in Kuwait City also allowed many people to witness the all-round and in-depth development of China-Kuwait relations over the past year.

Celebrations in France also illustrated the extent and popularity of Chinese culture in Europe. Speaking to the Xinhua News Agency, former French Prime Minister Jean-Pierre Raffarin, said, "I wish all our Chinese friends a very happy New Year's Day. Happy New Year! Happy New Year of the Pig!"

"The pig is a friendly animal ... that shows consistency... This animal is a good symbol of the energy that must be used today to develop our countries and find the prosperity that I wish to you," he added.