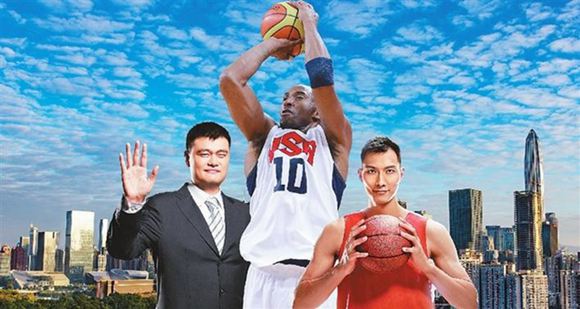 (L-R) Yao Ming, president of the Chinese Basketball Association (CBA), global sporting icon Kobe Bryant and Chinese basketball star Yi Jianlian in this composite photo. They will attend the FIBA Basketball World Cup 2019 Draw in Shenzhen Bay Sports Center on March 16.Liu Xudong
The FIBA Basketball World Cup 2019 Draw will take center stage in Shenzhen on March 16. The process of determining the groups and the road to being crowned world champion will be the headline act, but there are plenty more activities planned for the three-day basketball carnival, which will be a true celebration of FIBA's flagship competition and of basketball.
The event will gather global sporting icon and World Cup Ambassador Kobe Bryant, American best-selling singer/songwriter Jason Derulo, World Cup Ambassador Yao Ming, high-ranking officials from FIBA, the Local Organizing Committee (LOC) and the eight host cities, and representatives from the 32 participating national teams, including China captain Yi Jianlian.
Special guests will include Yang Chaoyue, a member of Chinese girl group Rocket Girls 101, and former U.S. national team player and Chinese Basketball Association star Stephon Marbury.
FIBA Basketball World Cup 2019 Draw
Bryant, Yao and Derulo will headline the star-studded show, which will be held in front of 8,000 spectators at Shenzhen Bay Sports Center on March 16.
The draw will start at 6:30 p.m. and be streamed live on FIBA's YouTube channel so that fans around the world can find out, in real time, what the path will be for each of the 32 participating teams to reach the final Sept. 15 in Beijing, where the winner will emerge with basketball's biggest prize — the FIBA Basketball World Cup trophy.
Bryant will help carry out the draw, while Derulo will perform some of his biggest hits throughout the night.
Unveiling of 2019 official game ball
On the eve of the draw, FIBA and longstanding global partner Molten will come together to exclusively reveal the ball that will be used by the world's top stars at the World Cup.