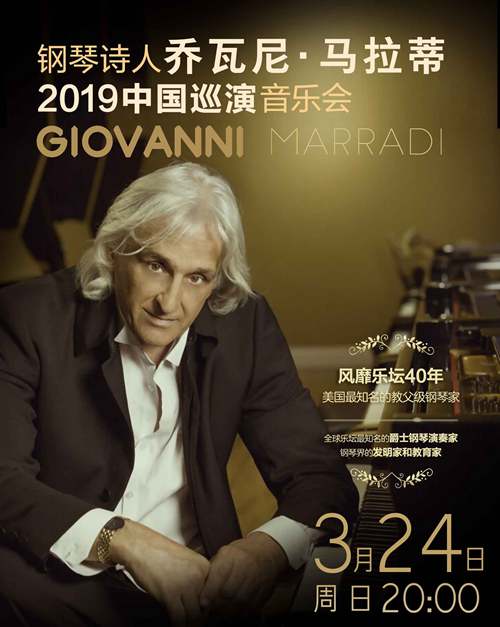 Date/Time: 20:00, Sunday 24th March 2019
Venue: Dongguan Yulan Theatre, Central Square, Hongfu Road, Nancheng, Dongguan
Troupe: Giovanni Marradi
Admission: 60/120/180/280/380 RMB
Giovanni Marradi, born of Italy heritage, is a composer, pianist, recording artist, arranger, performer, inventor and cartoonist. Giovanni began playing piano at age five, and was sent to study composition and technique with Michael Cheskinoff at the Russian Conservatory.
As a young adult, Giovanni played throughout Europe and the Middle East but his dream was to come to the U.S. to pursue his music career. After arriving in California as an Italian immigrant, Giovanni played small concerts in Southern California and was asked to perform at Caesar's Palace in Las Vegas. An entertainer took notice of this young talent and a long lasting friendship developed.That entertainer was Frank Sinatra. Frank mentored Giovanni throughout the years until his death.
Giovanni is one of the most successful expressionist pianists of the 21st Century. One hundred twenty thousand CDs sold in one 120 minute segment on QVC, which is a record that still stands as one of Giovanni's outstanding achievements.
Program
Gypsie Dance
Lysistrata
Calypso
Alfredo's theme
Balalaika
Jasmine Flower
Suyay!
Summertime
Somewhere in Time
Boogie Woogie
Amor
For you Matthew's
Requiem
Puerto De Tierra
Dark Eyes
Mozart 40
* Program is subject to change