Piano Recital by Dr. Zheng Hui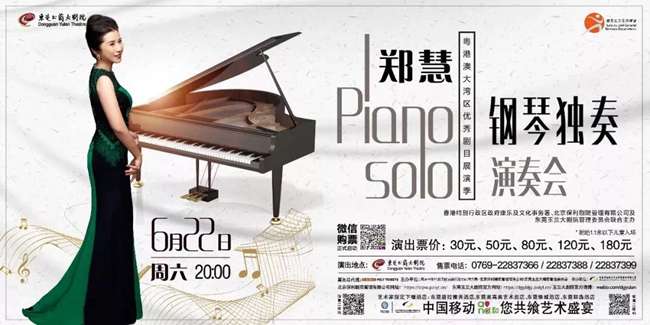 Date/Time: Saturday 22nd June 2019, 20:00

Venue: Dongguan Yulan Theatre, Central Square, Hongfu Road, Nancheng, Dongguan
Admission: 30/50/80/120/180 RMB
Performer: Dr. Zheng Hui
Dr. Zheng Hui is known as "the fifth-generation descendant of Beethoven" and a "piano poetess". Awarded "Ten Outstanding Young Persons Award" in 2009, she is a renowned pianist residing in Hong Kong.
Dr. Zheng is the first cohort to graduate from The Hong Kong Academy for Performing Arts and obtained a bachelor's degree from the Curtis Institute of Music. She later obtained her master's and doctoral degrees from Yale University and New York State University respectively. Her principal teachers include Ling Yuan, Gabriel Kwok, John Winther, Seymour Lipkin, Claude Frank and Gilbert Kalish.
She is now Chairlady of the Central Conservatory of Music (HK) Foundation and currently teaching at The Hong Kong Academy for Performing Arts and The Chinese University of Hong Kong, and has also adjudicated numerous local and international competitions.
Dr. Zheng has given numerous performances around the world, including performances at the Lincoln Centre, Carnegie Hall, Kennedy Centre, Beijing Concert Hall, Shanghai Grand Theatre, Shanghai Concert Hall, Guangdong Xinghai Concert Hall, Hong Kong City Hall and Hong Kong Cultural Centre. She has performed as a soloist with many orchestras, including the Moscow Philharmonic, Denmark Odense Symphony, Hong Kong Philharmonic, Hong Kong Sinfonietta, Hong Kong Chinese Orchestra and Macau Chinese Orchestra.