Date/Time: Wednesday 26th June 2019, 20:00
Venue: Dongguan Yulan Theatre, Central Square, Hongfu Road, Nancheng District, Dongguan
Admission: 60/120/180/230/280 RMB
Troupe: Hong Kong 3 Arts Musical Institute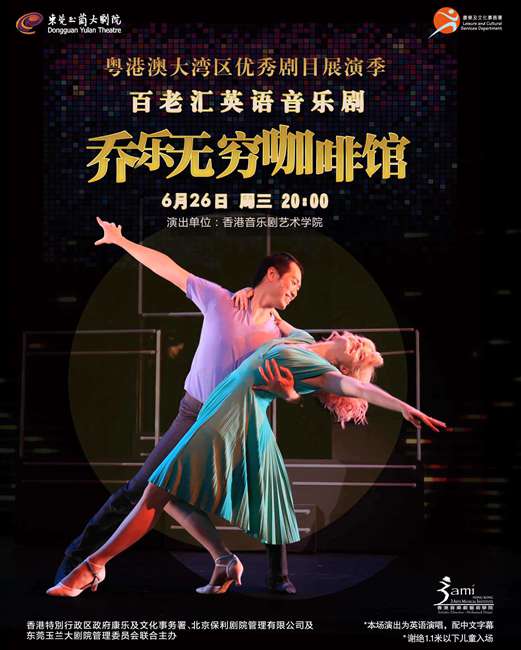 About the Hong Kong 3 Arts Musical Institute
The Hong Kong 3 Arts Musical Institute was founded in 2006 to provide musical theatre training to all musical theatre lovers by nurturing talent and fostering development. It aspires to cultivate young talent and impart professionalism and discipline to musical theatre performers by providing education, training, exposure, advice and information in an environment conducive to networking, research, development, exchange and growth. It also advocates the pursuit of excellence and life skills through multiple intelligence training.
Synopsis
The show is a collection of pop standards written by Jerry Leiber and Mike Stoller. Packed with memorable tunes like "Stand by Me", "On Broadway", "Poison Ivy", and "I'm a Woman", it is the longest-running revue in Broadway history.
It was previewed in Los Angeles and opened on Broadway in 1995. It has run for 2,036 performances by 2000. The original Broadway cast recording of the show won a Grammy Award in 1996.
Music/Lyrics: Jerry Leiber and Mike Stoller
Director/Choreography: Mohamed Drissi
Music Supervisor/Vocal Director: Amuer Calderon
Cast
Marsha Yuan(U.S.A),Jordan Cheng(Macau, China), Corinna Chamberlain(Australia), Peco Chui(Hong Kong, China),Margaret Cheung (Hong Kong, China),Micah Xavier(Finland), Mida Pang (Hong Kong, China),Stefan Gordon (U.S.A),Ronald Tsang (Hong Kong, China)