Date/Time: Thursday 12th December 2019, 20:00
Venue: Dongguan Yulan Theatre, Central Square, Hongfu Road, Nancheng District, Dongguan
Admission: 60/120/180/280/380 RMB
Troupe: Russian National Ballet Theatre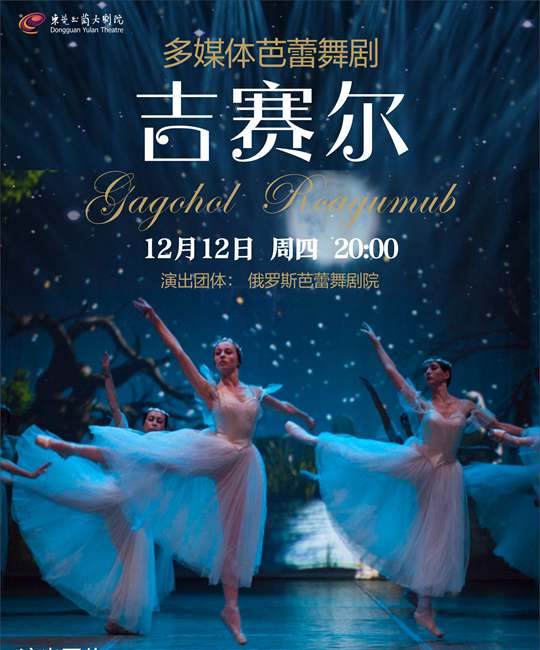 The ballet tells the story of a peasant girl named Giselle whose ghost, after her premature death, protects her lover from the vengeance of a group of evil female spirits called Wilis.
Giselle was first presented in Paris, France, on 28 June 1841. The choreography in modern productions generally derives from the revivals of Marius Petipa for the Imperial Russian Ballet. Giselle was first seen in Moscow in 1843, just two years after its creation in Paris, and a year after it was staged in St. Petersburg. The ballet's history in Russia since that time has shown a continuous sequence of performances, with Jules Perrot — one of the great originators of the choreography — providing a basic text which has been illuminated by the care and genius of generations of ballerinas and producers. When Giselle was forgotten everywhere else in Europe — it was dropped from the Paris Opera repertory in 1868 — Russian dancers and ballet-masters preserved and honored it.
Russian National Ballet Theatre
The Russian National Ballet Theatre was founded with support of the Ministry of Culture of the Russian Federation. The basic principle of the theatre is to preserve the creative heritage of Russian ballet and to search for new forms in choreography. Its repertoire includes not only classical performances such as Swan Lake, The Nutcracker and Sleeping Beauty, but also modern ballets set to the music of Mozart, Bach, and Ravel. In 2001, Evgeny Amosov became the Artistic Director of the theatre. He was graduated from the Perm Academy of choreography and then joined the Ekaterinburg Academic Theatre of Opera and Ballet as a principal dancer. He is also a prize-winner of Russian and International choreography contests of ballet-masters and ballet dancers.