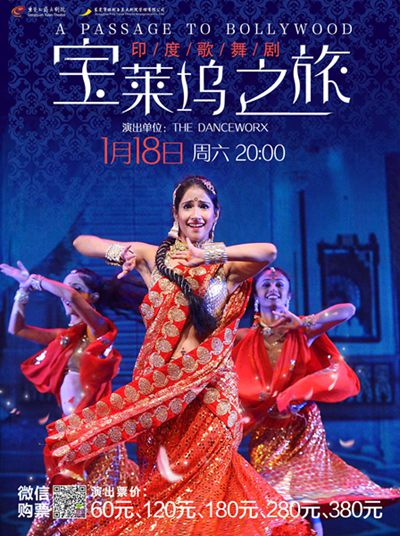 Date/Time: Saturday 18th January 2020, 20:00
Venue: Dongguan Yulan Theatre, Central Square, Hongfu Road, Nancheng District, Dongguan
Admission: 60/120/180/280/380 RMB
Troupe: The Danceworx
"A Passage to Bollywood", which has been touring around the world since 2015, is an internationally renowned vibrant song and dance gala. The musical is fascinating with foot tapping music, colourful costumes and a gripping plot that keeps you at the edge of your seat, covering various aspects of the Indian Bollywood culture. It comprises of old classics as well as the latest Bollywood songs.
The audience can expect to experience drama, action, romance, and dance just like a typical Bollywood Film. It tells a story of a young rural boy who moved to Mumbai in pursuit of his dream. This musical drama displays his journey in Mumbai focusing on his relationship with his dream lover and his mentor protecting him along the way. The story is so romantic and dramatic by taking unexpected turns and offering a surprising ending to the audience at last.
Choreography
Senior choreographer Ashley Lobo, who is regarded as the leading figure for the spread of international dance in India has been trained at the Bodenweise Dance Centre in Australia and the prestigious Sydney Dance Company. In 1998, Ashley founded the Danceworx Performing Arts Academy. It was the first professional college to teach western dance at that time in India. Up to now, it has 18 studios and has developed thousands of dance students to learn international dances such as jazz, ballet and modern dance.