Exhibition of Gold and Silver Wares from Song, Yuan and Ming Dynasties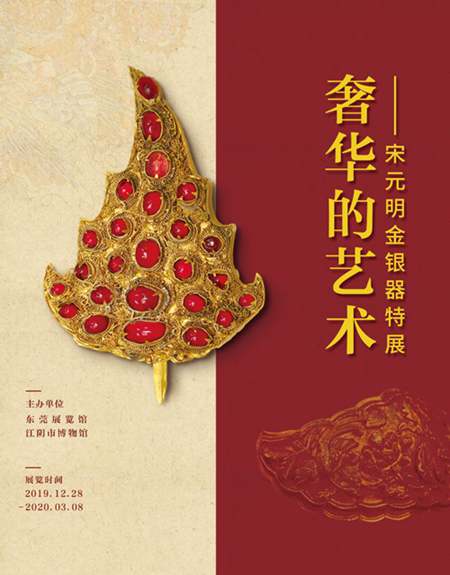 The "Luxury Art-Special Exhibition of Gold and Silver Wares from Song, Yuan and Ming Dynasties" hosted by Dongguan Exhibition Hall and Jiangyin City Museum is being exhibited in the special exhibition hall on the third floor of the Dongguan Exhibition Hall. The exhibition features 100 luxurious gold and silver articles with distinctive local characteristics. The items display a superior level of gold and silver ware production from the southern Yangtze area after the Song Dynasty. This exhibition will be on display until 8th March 2020.
Gold, as a rare heavy metal, has been favoured throughout the ages. After the Tang Dynasty, gold wares of the Song, Yuan and Ming Dynasties gradually were increasingly embellished with folk custom characteristics. Gold wares of the Yuan Dynasty basically inherited the Song Dynasty tradition, and their styles were similar. Gold wares of the Ming dynasty had their own characteristics, such as specialised gem setting methods. These gold wares were graceful in appearance, decorated with elaborate patterns, and made of thick gold, which created another style of gold ware craftsmanship distinguished from the Tang Dynasty.
The Song, Yuan, and Ming dynasty gold and silver wares collected in the Jiangyin City Museum were mostly unearthed from local cellars and tombs. They mainly consist of hair accessories and living utensils. Many skilled techniques such as casting, hammering, engraving, carving, and silk weaving were used in the process. Many gold and silver ornaments are also inlaid with precious stones, beautiful jade, tourmaline and many other precious stones. The exhibited works vividly reproduce people's rich life and tastes from the Song, Yuan and Ming Dynasties.