Recently, with the steel bridge deck pavement completed, the Second Humen Bridge is expected to open to traffic by May this year.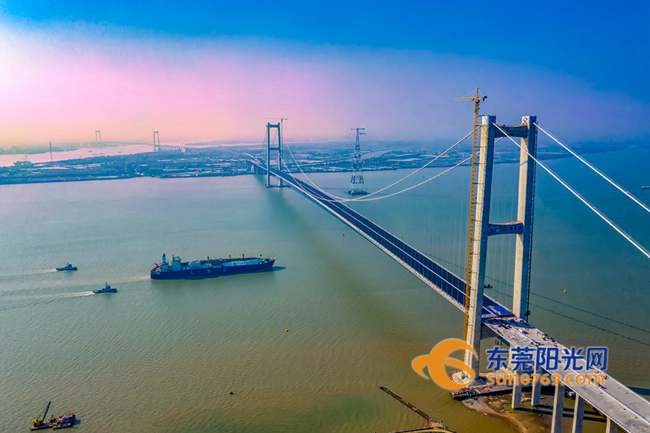 The 13km Second Humen Bridge project starts in Nansha, Guangzhou. It passes through Panyu District of Guangzhou City and crosses Humen Port to enter Shatian Town of Dongguan City. The terminal is connected with the Guangzhou-Shenzhen Yanjiang Expressway. After completion, it will become the largest steel box girder suspension bridge in the world.
At present, the Second Humen Bridge project is progressing smoothly with the main structural engineering essentially complete. The pavement of the steel deck on the main bridge has also been completed. The project has entered the final sprint stage.
Located in the core area of the Pearl River Delta, the Second Humen Bridge is about 20km from Huangpu Bridge of the Pearl River, and 10km from Humen Bridge. It is an important channel linking Guangzhou and Dongguan.
The project will alleviate traffic congestion crossing the river and congestion on the Humen Bridge. It is expected to play an important role in improving the layout and function of the road networks in Guangdong and the Pearl River Delta region. It will also promote the economic integration of the Guangdong, Hong Kong and Macao Greater Bay Area, and the rapid development of the Guangdong Nansha Free Trade Zone.
Upon completion, the Second Humen Bridge will save 10km from each trip between Nansha of Guangzhou and Dongguan. Each trip from Dongguan to Panyu of Guangzhou will benefit from a 30 minute saving.