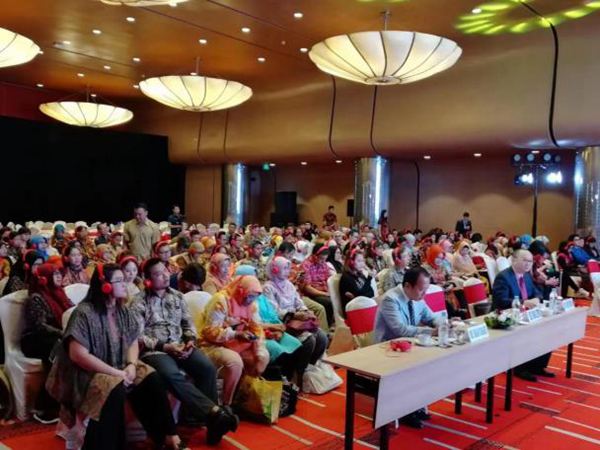 The 11th China Processing Trade Products Fair-Indonesia Road Show was held in Jakarta on 1st March, attracting over 150 representatives from the local Chamber of Commerce and interested enterprises. (File photo)
The 11th China Processing Trade Products Fair (hereafter the 11th CPTPF) is to be held at the Guangdong International Exhibition Centre from 18th to 21st April 2019. At present, more than 800 enterprises from 19 provinces, autonomous regions, direct-administered municipalities (including Guangxi and Hainan), Hong Kong and Taiwan have enrolled to attend the fair. With 2,195 booths reserved, the recruitment quota is over subscribed. OPPO, Vivo, Goertek, Hsu Fu Chi, Cai Niao, NetEase You, NetEase Kaola and other well-known enterprises will all appear in the 11th CPTPF.

Since 2009, CPTPF has become an important collaboration platform for processing trade. Up to now, seven provinces including Sichuan, Hunan, Jiangxi, Heilongjiang and Xinjiang have applied to participate in this CPTPF trade exhibition to gain more business. Among them, Sichuan and Yunnan will participate in the trade transfer exchange, which is organized by the Organizing Committee, while Guangxi and Jiangxi will organize introduction and promotion meetings separately.

The 11th CPTPF adds a new international food section with around 80 booths. The newly added section draws food enterprises from Thailand, Indonesia, Malaysia Vietnam and other countries.

Recently, the 11th CPTPF has already received full support from the China Chain Store & Franchise Association, China Toy & Juvenile Products Association, China Chamber of Commerce for Import and Export of Machinery and Electronic Products and China Commerce Association for General Merchandise. The Organizing Committee will continue to visit Hunan, Hubei and Sichuan province to conduct promotion and investment work. During the exhibition, a number of production and sales matching meetings, such as the Guangdong Chain Industry Conference, will be hosted.

The exhibition will also hold 12 supporting activities. Fan Gang, the famous economist and Dean of the China Development Institute, will attend and make a speech at the theme forum. The 2019 World Intelligent Mobile Terminal Industry Summit Conference will also be held during the exhibition. The Organizing Committee is to invite relevant ministries and leaders and academics from the Chinese Academy of Engineering to attend and make speeches at the conference. At present, it has confirmed that top executives from Huawei, Inspur and Goertek will attend as speakers.
(By Ashley Zheng and Sev Pischl)