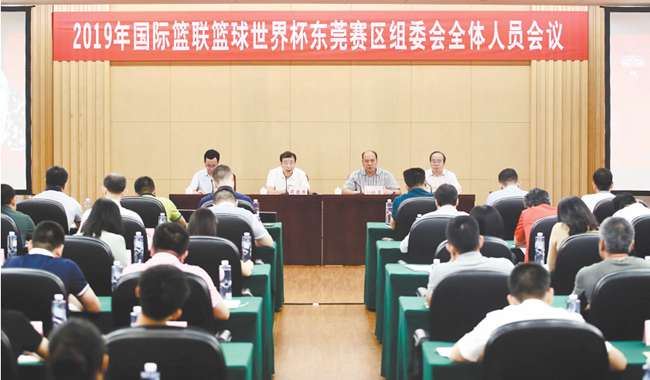 The 2019 FIBA Basketball World Cup Dongguan Division Organizing Committee meeting was held in Dongguan on 23rd May.
The FIBA Basketball World Cup 2019 is less than 100 days away, and Dongguan, as a host city of the Group H games, is accelerating preparations for the Dongguan division events.
On 23rd May, the 2019 FIBA Basketball World Cup Dongguan Division Organizing Committee meeting was held in Dongguan's administrative centre. The conference summed up the progress of tasks of the Dongguan Division Organizing Committee thus far, and studied the key tasks for the remaining 100 days. Mr. Xiao Yafei (Mayor of Dongguan), and Mr. Yang Xiaotang (Member of Dongguan's standing committee and Director of the Propaganda Department of the CPC Dongguan Committee), attended the meeting.
"The city is not only about high-rise buildings and green natural environment. It must be humanistic and have a spiritual pursuit. This is the goal of Dongguan's work in the next phase." Xiao Yafei said during the meeting.
Xiao also asked all the people in the Dongguan Division Organizing Committee to strengthen their sense of responsibility and mission, and make every effort to promote the steady and orderly work of the event.
The 2019 Basketball World Cup will be held from 31st August to 15th September in eight Chinese cities including Beijing, Guangzhou, Nanjing, Shanghai, Wuhan, Shenzhen, Foshan and Dongguan. According to the organizing committee, Group H competitions will be held in Dongguan. At that time, Canada, Senegal, Lithuania and Australia will engage in fierce competition in this national basketball city. The winning team of Group E will also compete in Dongguan, so it seems likely that the US team will compete in Dongguan.
At present, the Dongguan Division is actively organizing preparatory work, including promoting the renovation and upgrading of the venues, making the reception service program, actively carrying out publicity activities, completing on-site inspections and data submissions, and promoting security and other work. The competition venue of the Dongguan Division will be the Dongguan Basketball Centre. Special municipal funds have been invested to upgrade and renovate certain function rooms and surrounding supporting facilities to improve the hardware conditions of the venue. Special coordination meetings have also been held to study traffic flow during the event.
By now, reconstruction and supporting upgrades for the venue have completed initial project establishment, budgetary approval and bidding. 15% of decoration and renovation works for the venue have been completed. The first batch of wooden floor covering will begin in late May, while other installation works already began on 13th May. Landscape engineering outside the venue began on 16th April.
Reception service work is an important part of the event. At present, all kinds of reception hotels in Dongguan have been confirmed by the International Basketball Association following numerous on-site inspections. The competition department and office of the organizing committee are also formulating the urban experience program for players, media reporters and VIP's during their stay in Dongguan.