Dongguan drives innovative development of Taiwan-invested enterprises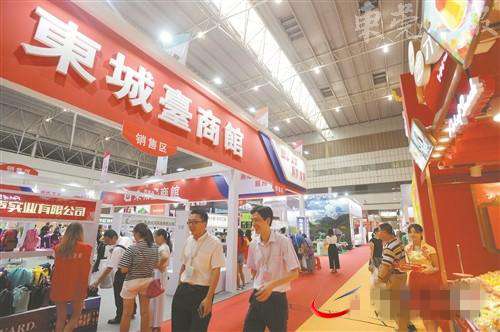 The scene of Taiwan Trade Fair 
Dongguan is one of the key cities in the Chinese mainland that enjoy close cooperation with Taiwan. It is also one of the regions that witness the earliest and most intense investment from Taiwan and one of the most vigorous regions that converge most Taiwan-invested enterprises in the Chinese mainland.
In the past several years, Dongguan has been actively guiding and pushing forward transformation and upgrading of Taiwan enterprises. Through such programs as "Guan-Rong Plan", Cross-Strait Youth Entrepreneurship Base and employment and entrepreneurship demonstration base and Taiwan Trade Fair, Dongguan builds a platform for the transformation and upgrading of Taiwan-invested enterprises by converging resources of emerging industries from Taiwan, fueling innovative development of Taiwan-invested enterprises and deepening integration of economy and society of Dongguan and Taiwan. Taiwan-invested enterprises show sound growth momentum and are making significant contributions to the economic development and industrial cluster of Dongguan.
Attracting innovative resources from Taiwan
Through years of nurturing, Medimaging Integrated Solution Inc. managed to obtain the first "qualification certificate" under "Guan-Rong Plan" on October 24, 2018.
Led by the People's Government of Dongguan Municipality, "Guan-Rong Plan" was officially launched in October, 2013. It mainly introduces listed companies, OTC companies and companies that are publicly traded from Taiwan. "Guan-Rong Plan" attempts to build a world-leading biotechnology industrial cluster and implements a ten-year plan featuring "implementation in the first year, blossom in the second year, fruits-bearing in the third, harvest in the fifth and growing into a forest in the tenth year".
It is learned that "Guan-Rong Plan" has so far introduced 20 public biotech companies from Taiwan and Hong Kong. A Guan-Rong biotech cluster has already taken shape in Songshan Lake. At the same time, Songshan Lake Biotech Industrial Park is also introducing renowned large biotech enterprises from the Chinese mainland. Exclusive policies on development of biotech industry were also released in July, 2018, which gives the biotech industry a shot in the arm.
"Guan-Rong Plan" only constitutes part of Dongguan's efforts in attracting innovative resources from Taiwan. In recent years, Dongguan has launched a series of measures in order to provide all-round support and services for Taiwan businesses. For instance, it has released a batch of supportive policies for innovation and entrepreneurship such as "Measures for Introducing Youth Talents of Innovation and Entrepreneurship from Taiwan" and "Dongguan's Action Plan for Dongguan-Hong Kong-Macau-Taiwan Joint Nurturing of Talents of Technological Innovation and Entrepreneurship".