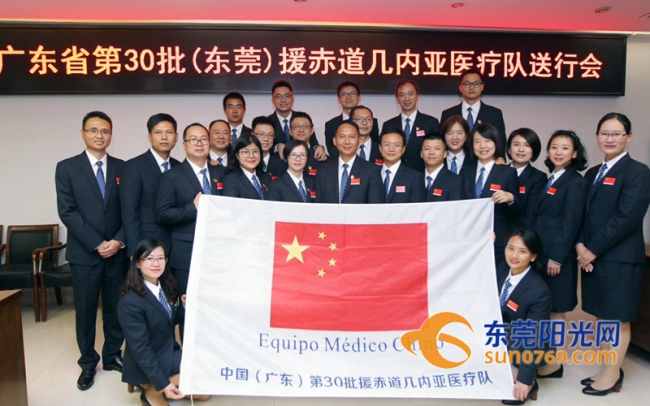 On 2nd July, a farewell ceremony was held for the 30th expedition of the Guangdong (Dongguan) Medical Aid Team to Equatorial Guinea. The 25 member medical team will depart for Equatorial Guinea on 6th July to provide medical assistance for a year and a half. Ms.Yu Lijun (Deputy Mayor of Dongguan) attended the ceremony and delivered a speech.
Among the 25 members of the medical team are 19 medical workers from 14 different public hospitals such as Dongguan's People Hospital and Dongguan TCM Hospital. They work in major clinical departments such as paediatrics, ICU and the emergency department. Since 18th October 2018, the team members have undergone eight months of systematic off-the-job training in Guangzhou.
The team will be led by Chen Shaoji (deputy researcher of Dongguan Municipal Health Bureau). Chen explained that the team members have basically mastered Spanish listening, speaking, reading and writing skills, getting ready to adapt to the new environment. They are grateful to be able to participate in the assistance, and will try their best to provide quality medical services to the people of Equatorial Guinea.
According to Ms.Yu Lijun, Dongguan government has always attached great importance to foreign medical assistance. Sending a medical team to assist Equatorial Guinea is a glorious mission requiring team members to overcome many difficulties such as language barriers. She hoped that medical team members will arrange their work and life reasonably, stay true to their mission, provide the best medical services for the local people, and maintain the image of a professional medical team.
Feature Story
Dr Zheng Jinbiao: to offer free treatment for 100 cataract patients in Africa
Dr Zheng Jinbiao is a 34-year-old attending physician in the Department of Ophthalmology of Dongguan's People Hospital. He said that local people in Equatorial Guinea are prone to ophthalmology cataracts because they have stayed in the tropics for a long time. However, due to economic conditions and lack of good medical technology, their vision worsens with some having total loss of sight.
Zheng hopes to help local patients suffering from eye diseases with his professional skills. Prior to this, a special aid project for cataract surgery in Equatorial Guinea has been launched. In this project, Zheng plans to implement free treatment for 100 local cataract patients in conjunction with other doctors. "We will prepare and provide all of the surgical instruments and medicines. The operation will be carried out by us and other doctors from different assistance teams," said Zheng.
(By Sharon Liu,Stefanie Tan and Sev Pischl)