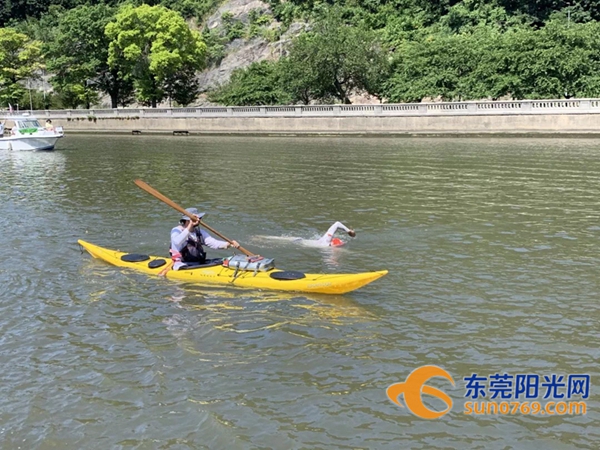 "He made it! This is the pride to all Chinese."

After swimming seven hours and three minutes around the Manhattan Island in New York City on July 14th, Chen Suwei from Dongguan, Guangdong of South China, successfully completed the last of a trio of marathons and earned the Triple Crown of open-water swimming.

The Triple Crown consists of three monumental open water swims: Manhattan Island Marathon Swim (also called "20 Bridges"), the Catalina Channel Swim off the California coast, and the English Channel Swim between England and France. Chen's success in completing all three swims in a single year had qualified him, the first Chinese ever, to receive the Triple Crown honor.
At Mill Rock Park, Chen and a group of international swimmers kicked off their circumnavigation swim of Manhattan at 8:55 a.m. on July 13th (New York time). The full course was 48.7 kilometers.
The Manhattan marathon posed three particular challenges: the long distance, low water temperature and stormy waves, Chen said in an interview in June. At a length of 21.5 kilometers and a width of up to 3.7 kilometers, Manhattan is situated between the Hudson and East rivers. The water condition can be choppy, dirty and filled with debris. And the temperature is at 16 to 18 degrees Celsius, even in July.
Chen said beforehand that he expected his swim to take 8 to 10 hours. It turned out that he set a personal record of 7 hours and 3 minutes.
Marathon organizers said through June 1st, 2019, only 211 swimmers had achieved the Triple Crown across the world. Chen became the first Chinese to accomplish the three courses and was the oldest among swimmers in the marathon of the day, at the age of 51.
Below are Chen's previous achievements crossing the English Channel and Catalina.