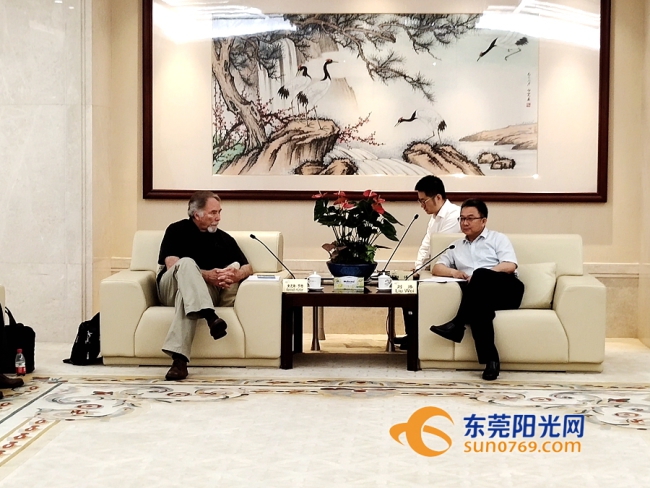 On 4th July, Liu Wei (Deputy Mayor of Dongguan) met with staff from the University of Nevada, Reno including Vice-President Dr. Kenneth Hunt. Liu introduced Dongguan's investment environment and the development of the medical industry. Both sides discussed the feasibility of cooperation between Kate Company (HQ) and Dongguan.
Liu said that the new generation of information technology, high-end equipment manufacturing, new materials, new energy, life sciences and biotechnology are the five key emerging industries in Dongguan. The bio-pharmaceutical industry will be a crucial key industry in Dongguan. Market demand for bio-medicine in Dongguan is increasing, resulting in different kinds of resources gathering in the city and hoping Dongguan's industrial support policies will improve.
Dr. Kenneth Hunt said that after visiting the Dongguan Exhibition Hall, he had a better understanding of the development of Dongguan and hoped to cooperate with the city in bio-medicine. It is understood that the University of Nevada in Reno is a comprehensive college with a long history having been built in 1874. The university's partner, Shenzhen Kate Bio-Medical Electronics Co. Ltd is expected to invest and construct their headquarters in Dongcheng of Dongguan, and signed a letter of interest with Dongcheng District in 2017. Through this meeting, he hoped that the project could be further advanced.
According to statistics, by the end of 2018, more than 180 biotechnology companies and more than 270 medical device industrial enterprises emerged in Dongguan, including HEC, Capital Bio Corporation, Biocean, Guangji Group, Guangdong Handsome Biological Technology, and many more.
The delegation visited the Dongguan Exhibition Hall, the Water Town Characteristic Economic Developing District, and the Songshan Lake High-tech District. They talked with the Water Town Management Committee and the Songshan Lake High-tech District Management Committee to learn about the development and investment environments at each location.