3 Dongguan players win IBSF U18 & U21 World Snooker Championships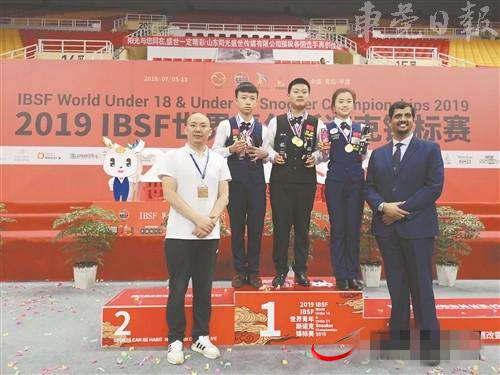 Three players from Dongguan shined in the IBSF World Under 18's & Under 21's Snooker Championships 2019. (Photo source: Li Jianbing)

The IBSF World Under 18's & Under 21's Snooker Championships 2019 was held in Qingdao of Shandong Province from 5th to 13th July. Eight teenagers from Dongguan took part in the competition, winning three championships, one first runner-up and two second runner-up prizes. It is worth mentioning that they are all students of Li Jianbing, who is also the coach of the national team.

The World Under 18's & Under 21's Snooker Championships have a history of more than 30 years. O'Sullivan, Robertson, Ebdon, China's Ding Junhui and Liang Wenbo all placed top in this competition before entering the professional arena. Li Jianbing's first apprentice Xu Si, who was selected in Dalang, won the championship in the World Under 21's Snooker Championships in 2016. He is now a professional billiard player and lives in the UK.
Rooted in Dongguan for 10 years, Li has been focused on youth training and cultivated 4 champions of the World U18 & U21 Snooker Championships within 3 years. He is worthy of his title "Best Youth Training Instructor" in China's snooker circuit.