Dongguan forges itself into an advanced manufacturing center in the GBA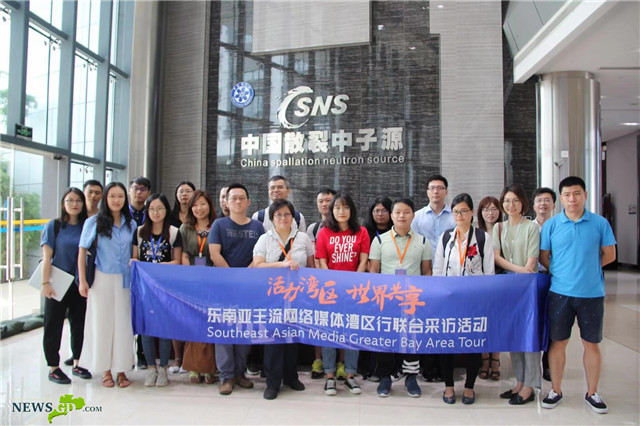 Journalists pose for a group photo at CSNS. [Photo by Will]
One in four smartphones in the world are made in Dongguan. Over 10,000 enterprises with annual revenue of RMB 20 million or more are located in the city. This city, benefiting from its well-developed manufacturing industry and open economy, serves as a window-for the world onto Guangdong and China.

According to the Outline Development Plan for the Guangdong-Hong Kong-Macao Greater Bay Area released in 2019, the Greater Bay Area will "develop a globally influential and competitive cluster of world-class high-end manufacturing industries, such as electronic communications, on the east bank of the Pearl River with Shenzhen and Dongguan as its core."
On September 3rd, journalists participating in the Southeast Asian Media Greater Bay Area Tour began their visit of Dongguan, gaining insight into the manufacturing upgrade, reform and development of the city through visits to the Dongguan Port, China Spallation Neutron Source (CSNS), Songshan Lake Xbot Park and Topstar Technology Co., Ltd.
Dongguan goods shipped to all over the world through Dongguan Port
When the journalists arrived at the Dongguan Port after a heavy rain, containers are being loaded and unloaded, ships berthing and setting sail, all in good order.
A staff member told the reporters that Dongguan Port is one of the top 40 world ports, its container throughput reached 3,560,000 TEUs and cargo handling capacity 164 million tons in 2018. Right behind the port is the Dongguan Bonded Logistics Center, the only center in Dongguan that enjoys distinctive policies at national level and serves over 3,500 enterprises in the city every year.
Now Dongguan Port has opened ship routes to major ports in the coastal regions of China, such as Dalian, Tianjin, Liangyungang, Shanghai and Fujian province, as well as to Vietnam. More new sea routes to Southeast Asian countries will be opened in the future.
According to the head of Dongguan Port, the volume of Dongguan's imports and exports to the countries and regions along the Belt and Road has reached 138.16 billion RMB in the first half of this year, up 20.8%, and to ASEAN, Dongguan's biggest trade partner, 83.7 billion RMB, up 22.8%.
CSNS facilitates industrial upgrade in the GBA
CSNS, a large scientific facility, is located in Dalang, a town in Dongguan. On first glance it appears to be little more than several buildings surrounded by litchi trees. Going down 17 meters underground, however, you will see the source composed of an 80 MeV Hˉ linac, a 1.6 GeV rapid cycling synchrotron (RCS) and a target station with three initial instruments used for neutron scattering research.
Liu Chen, office director of Dongguan Neutron Science Center, gave a detailed explanation of the working principle to the journalists. Ms. TAN Dawn Wei, China Bureau Chief of The Straits Times, said this was an eye-opening trip for her. TAN pointed out that Singapore and the Greater Bay Area can enhance exchange and cooperation in the field of scientific and technological innovation.
August 23rd marked the CSNS's first anniversary of being put into operation. Billed as a "super microscope", the CSNS was jointly built by the Chinese Academy of Sciences and Guangdong provincial government, making China the fourth spallation neutron source in the world.