Innovation in science and technology exudes vigor and vitality: Dongguan's innovation experiences leapfrogging development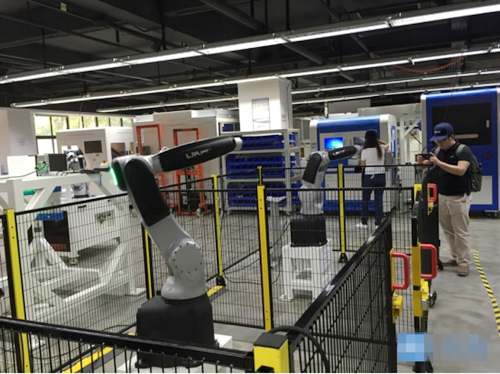 Integrated robotic products developed by Quotient Kinematics Machine Co., Ltd.
Starting from this year, Dongguan has been advancing its development as a national innovation-driven city and work in innovation in science and technology. The city demonstrates sound development momentum in its innovation in science and technology with multiple indexes ranking among the top in the province. Dongguan, in the face of the opportunities brought by the development of the Guangdong-Hong Kong-Macau Greater Bay Area, will deepen its reform in innovation system for science and technology by centering on building a national innovation-driven city.
Breakthroughs being made in the development of major technological platforms
Since the beginning of this year, Dongguan has been actively aligning itself with the country's layout of basic research and has achieved fresh breakthroughs in developing major technological platforms.
Founded in 2018, Songshan Lake Materials Laboratory (hereinafter referred to as "Materials Laboratory") represents one of the four laboratories Guangdong province has launched. The Materials Laboratory has so far introduced 17 industry-oriented teams, 8 fellows of Chinese Academy of Sciences and Chinese Academy of Engineering and 30 winners of the National Science Fund for Distinguished Young Scholars.
The Guangdong-Hong Kong-Macau Center for Interdisciplinary Sciences, collaboratively founded by the Materials Laboratory and universities such as Peking University, the University of Hong Kong and the University of Macau, has launched over a dozen high-level and influential interdisciplinary sciences academic exchanges in such fields as biomedical and material sciences, artificial intelligence and material science. With regard to institutional management, the Materials Laboratory has initially set up a new type of managerial mechanism, formulating a managerial system that covers 27 items such as fund, scientific research and personnel. According to Zhang Guangyu, the Vice Director of the laboratory, "the development goal of the Materials Laboratory is to build itself into a national laboratory and to solve major problems in science based on research on application technology." The Materials Laboratory is able to address technological problems the region faces in industrial chain development and provide enterprises with equipment for basic scientific research, and systematic and customized services. Looking ahead, in terms of cooperation in scientific research in the Guangdong-Hong Kong-Macau Greater Bay Area, the Materials Laboratory is expected to play an active role in such aspects as providing basic technology support, attracting international talents, and conducting international exchanges and cooperation.
Efforts will be made to cultivate top 100 innovation-oriented enterprises
In the Xbot Park, technology products such as parallel robots, SCARA robots, and six-axis robots independently developed by Quotient Kinematics Machine Co., Ltd. (hereinafter referred to as "Quotient Kinematics Machine") are real eye-openers. The company is a national high-tech enterprise that specializes in the research and development, production, sales and application of light-weight high-end industrial robots. Its integrated parallel robot is always its flagship product since it was first launched as the world's first of its kind in 2013. The first robot manufactured by the company has so far operated more than 40,000 hours.
Liang Jintang, Market Director of Quotient Kinematics Machine told the journalist that the company has launched 9 series with 30 different products, which are mainly applied to industries such as 3C, new energy and daily chemicals and can meet the customers'different demands for light-weight robots.
Quotient Kinematics Machine, headquartered in Dongguan, has R&D centers in Shanghai and Shenzhen. According to Liang Jintang, Dongguan's concentrated manufacturing industry provides a sound customer base for enterprises dealing with robot research and development. Settlement in Dongguan allows for closer connection with customers and facilitation of new products development. The comprehensive industrial chain in the Guangdong-Hong Kong-Macau Greater Bay Area also provides great convenience for molding and sampling of robot enterprises.
Dongguan is home to many technology enterprises like Quotient Kinematics Machine. The journalist learned from Dongguan Science and Technology Bureau that Dongguan boasts 5,789 national high-tech enterprises, ranking the first among prefecture-level cities in the province.
The city has been improving its policies for nurturing high-tech enterprises to boost enterprises' vitality and give prominence to enterprises'role as key players in innovation. The journalist learned from Dongguan Science and Technology Bureau that in the first quarter of this year, Dongguan's high-tech enterprises generated revenues of about 170.2 billion yuan, a year-on-year increase of 8.81%. New industries and new forms of business such as robots, lithium batteries, and new materials spring up like mushroom, producing a batch of leading enterprises and a cluster of innovation-oriented enterprises.