Dongguan accelerates its pace to become the talents highland in the Greater Bay Area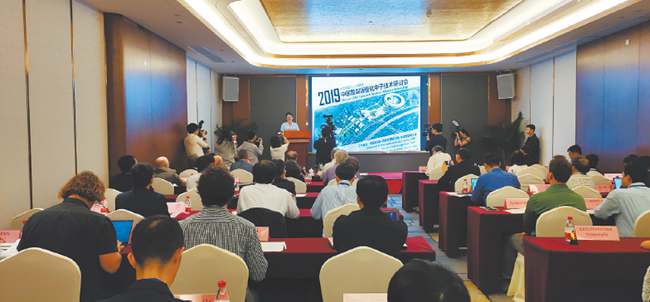 On November 24, the 2019 China Spallation Neutron Source Polarized Neutron Technology Seminar was convened in Dongguan. Over 20 top experts from nearly 10 countries and regions attended the seminar. This was the first international conference for polarized neutron in China, as well as one of the activities of "2019 Dongguan High-level Talents Week".
It was hard to imagine holding a top international science seminar in Dongguan a decade ago. At that time, the financial crisis was just relieved, the "world factory" planned to change the traditional industry, while "labor-intensive workshop for low-end processing and manufacturing"was still a label attached to Dongguan.    
In fact, Dongguan was transformed into a town for heavy industry from a county of agriculture rapidly during the reform and opening up, but did not prevail in areas like high education, urban and township supplementary services compared with those in surrounding cities. What's more, as a city located between Guangzhou and Shenzhen, while it enjoys its convenient transportation, Dongguan also suffers from talents siphon effects from two big cities.
But in recent years, as Dongguan has gradually yielded fruitful outcomes in industrial transformation and upgrading, the new-type R&D institutions came into being, as major national institutions like China Spallation Neutron Source were launched in Dongguan, high tech companies and high-end industrial chains represented by Huawei took root in Dongguan. The total number of talents in Dongguan reached 1.95 million while the number of high-level talents was 126,000 million, which keep growing year by year. Among the popular destination cities for university graduates around the country in 2019, Dongguan ranked the 6th, higher than some central cities like Chengdu and Wuhan.  
Dongguan now accelerates its pace to become a talent highland in the Greater Bay Area from a "world factory". So what drives high-level talents to come to Dongguan?
R&D Institutions Shape a Strong Magnetic Field to Attract Talents
 "The polarized neutron technology is extensively applied in many scientific researches. China used to lag behind other countries in this field. Now, China Spallation Neutron Source has established the Polarized Neutron Center and assembled its own team, holding the international conference in polarized neutron area for the first time. It is believed that under the joint efforts of all parties, Chinese polarized neutron technology will embrace the leapfrog development in the future." said Chen Hesheng, Academician of Chinese Academy of Sciences and Commander in Chief for Projects of Chinese Spallation Neutron Source.
The holding of this conference for polarized neutron in Dongguan, which is of milestone significance, is resulted from the successful launching of the "national major institution".  
On August 23 last year, the world's fourth and China's first spallation neutron source scientific equipment was put into operation after years of construction. One of its key technologies is the production of intense-beam pronton accelerators for bombarding high power proton beams of heavy metal target. China Spallation Neutron Source is a cutting-edge international large research platform for high-tech multidisciplinary application. Instant results are seen, as it has already solved over 100 scientific research problems.    
While solving the scientific research problems, the "national major institution" also become the place of gathering high-level talents. The operation of Spallation Neutron Source contributes to the gathering of a number of domestic and foreign top scientists in Dongguan. As the leader of Accelerator Technology Department of Dongguan Neutron Science Center of Institute of High Energy Physics, Chinese Academy of Sciences, the PhD Qi Xin is responsible for the development work of China's first 25Hz resonant power supply, the key equipment of China Spallation Neutron Source. It is also the first task for carrying out special technology research of CSNS project. Under her leadership, the task team successfully developed the megawatt resonant power supply system for the first time, which filled in the gap in this area in the country. What's more, the control problem of dynamic magnetic field has been solved by injecting original current harmonics, and the control precision reached the international advanced level.     
Last August, Qiu Jie, PhD of Institute of High Energy Physics, Chinese Academy of Sciences, also came to Dongguan for the reason of Spallation Neutron Source. When he was recommended for continuing the postgraduate study in university, his tutor recommended him several famous domestic universities. But Qiu Jie chose to work in Chinese Academy of Sciences as he wanted to do practical researches. Although he was assigned to work in Beijing at the beginning, the spallation neutron source project in Dongguan kept attracting him. After changing tutors and regions, he finally came to Dongguan to be engaged in researches he likes.     
On June 17 this year, the construction of one of four provincial laboratories firstly initiated by Guangdong Province - Songshan Lake Materials Laboratory was put into operation. It is expected that a whole-chain research model of "cutting-edge basic research - basic research for application - industrial technology research - industrial transformation" will be formed in the future, solving a series of major technical problems.
Supported by national major institutions like Spallation Neutron Source and Songshan Lake Materials Laboratory, Dongguan is now planning to construct a science city, hoping to gather a number of high-end innovative resources and build a classic national comprehensive scientific and technological innovation center.
In the future, it is estimated that 600 scientists around the world will work in Dongguan all year round, and 100,000 scientific talents from different countries and regions will be attracted to Dongguan. At the same time, Dongguan's new-type R&D institutions, another kind of high-level talents carrier, now carry out effective explorations on deepening industry - university - research cooperation after a dozen years of development. Currently, there are 32 new-type R&D institutions in Dongguan, of which 24 are provincial new-type R&D institutions. Through co-building new-type R&D institutions, Dongguan has established close partnerships with famous educational institutions like Chinese Academy of Sciences, Peking University, Fudan University, Tongji University and Huazhong University of Science and Technology. These 32 new-type R&D institutions gather over 5,500 talents of all categories, including 206 high-end talents, 6 provincial innovation scientific research teams, 15 municipal innovation scientific research teams and 96 foreign innovative talents, providing strong help for the industry - university - research combination, industrial transformation and upgrading of Dongguan.