The number of overseas and domestic listed companies in Dongguan exceeds 50, ranking the 1st among prefecture-level cities in Guangdong Province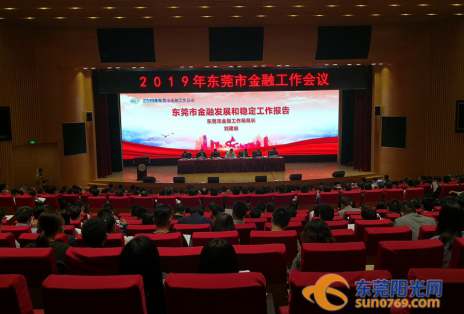 On November 26, the 2019 Dongguan Financial Affairs Conference was held. The journalist learned that until the end of this September, the year-on-year growth of deposit balance of local and foreign currencies, loan balance rose to the 2nd and 1st in the province respectively.
The Growth Rate of Deposit Balance of Local and Foreign Currencies Ranked the 2nd, while the Growth Rate of Loan Balance Ranked the 1st in the Province
The Conference pointed out that in recent years, especially since this year, Dongguan has implemented the decision-making deployment of the central government and province released for financial supply-side structural reform. It has attached great importance to expanding efficient financial supply and improving the ability of financial service. Focus will be put on at key parts including optimizing financial service system, expanding direct financing channel and adjusting credit and loan launching structure. Furthermore, strategies will be implemented to construct modern financial institution system, develop and use multi-level capital market, mitigate the difficulties of financing for small, medium and large enterprises, preventing potential financial risks. As a result, the financial reform in Dongguan has yielded great results, demonstrated by continuous growth of total financial scale, continuous gathering of financial resources toward manufacturing industry, continuous increase of "Dongguan share" in listed companies as well as continuous improvement of financial ecological environment.
It is learned that by the end of September, the deposit balance of local and foreign currencies in Dongguan was 1,590.5 billion RMB, with a year-on-year increase of 13.2%; the loan balance of local and foreign currencies was 988.6 billion RMB, marking a year-on-year growth of 23.2%, which growths rose to the second and first position respectively in the whole province; the loan-to-deposit ratio reached 62.2%, increased by 5.1% compared with that in the same period in the previous year; the non-performing loan ratio of bank decreased to 1.14%, which was the lowest in the past three years in Dongguan. Currently, the number of overseas and foreign listed companies exceeded 50 (5 were newly added in the year), other 9 companies have declared the materials of going listed, 13 companies have put on records in China Securities Regulatory Commission, which numbers ranked the first among prefecture-level cities in the province, providing due financial service support for constructing the "metropolis in Greater Bay Area and quality Dongguan".     
Besides, in recent years, Dongguan has formulated and implemented the talents policies like Talents Special Support Plan, individual tax incentives for special talents and talent, conducted researches on solving problems and dealing with appeals of financial talents so that the talents can stay in Dongguan. In the past year, 10 financial leading talents were examined and approved, while over 300 qualified senior executives of financial institutions applied for individual tax incentives The outcome of introducing and keeping talents in finance industry has been further demonstrated. At present, there are more than 51,000 financial talents and over 2,800 high-level financial talents in Dongguan.
Financial Institutions Promote Physical Economy, while A Series of Cooperation Agreements were Signed at the Site
A series of signing ceremonies of cooperation agreements were held in the Conference so as to fully demonstrate the new outcomes of financial institutions in supporting physical economy, focusing on the "multiplication plan", expanding space and promoting urban renewal. Guangdong Branch of China Development Bank signed the credit extension business for "sub-loan" with Bank of Dongguan and DRC Bank; Dongguan Branch of Industrial and Commercial Bank of China, Dongguan Branch of Bank of China, Dongguan Branch of China Construction Bank signed the financing agreements with many enterprises for "multiplication plan" respectively; Dongguan Branch of Industrial and Commercial Bank of China, Dongguan Branch of China Merchants Bank and Guanxin Fund signed the agreements with several companies respectively for projects of "expanding space" and urban renewal.
The training part was also included at the end of the Conference, as the Deputy General Manager of Headquarters Research Institute of China Merchants Bank Tan Haiming, and Division Head of the provincial and local Finance Supervision Bureaus Zhang Haitao were invited to give theme lectures for major members of financial system in Dongguan in terms of topics like establishing the new highland of industrial finance, prevent and combat illegal capital gathering.