China (Guangdong) - Europe Investment & Innovation Cooperation Conference held in Dongguan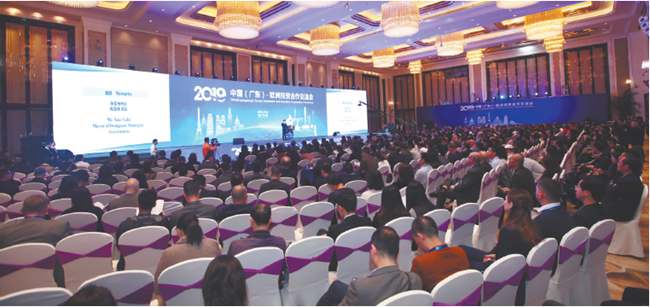 The 2019 China (Guangdong) - Europe Investment and Innovation Cooperation Conference (hereafter "the Conference") was held in Dongguan City from 6th to 7th December. The Conference was hosted by Guangdong Provincial Government of People and the European Union Chamber of Commerce in China. Top management representatives from more than 190 European enterprises, most of which are on the global top 500 list or industrial leaders, performed exchange cooperation with over 200 Guangdong enterprises during the Conference.
Mr. Liang Weidong (Secretary of the CPC Dongguan Municipal Committee) said that Dongguan is eager to strengthen technical cooperation and talent exchange with Europe, and promote high-quality development of Dongguan by using European advanced ideas, technologies and outstanding talents. At the same time, it will provide a broader market and stage for European advanced technology and outstanding talents.
Mr. Xiao Yafei (Mayor of Dongguan) said that European companies are welcome to learn more about Dongguan, comprehensively evaluate the business environment of the city, and carry out docking cooperation. Dongguan will also provide the most generous conditions and the most comfortable services, create the best quality environment for European enterprises, promote mutual cooperation and win-win situation, and make every effort to transform Dongguan into a second hometown for European enterprises in China.
European company Nestle raises the curtain of foreign investment
41 years ago, the country's first processing trade company settled in Dongguan, pushing Dongguan to become a pioneer in China's reform and opening up. 31 years ago, the Nestlé Group of Switzerland set up a production base in Dongguan, becoming the first Global Top 500 company settling in Dongguan, triggering a wave of global investments.
Today, Dongguan has developed into a famous international manufacturing city and a foreign trade city with a GDP exceeding 820 billion RMB. Its' total value of imports and exports ranks 5th in the country, having established close economic and trade cooperation with more than 200 countries and regions. It has gathered more than 10,000 foreign-funded enterprises, including a number of large-scale investment projects from Europe, such as Nexperia and Luxentica. It is expected that in the next two to three years, Dongguan's GDP will reach a trillion RMB. At present, Dongguan is also facing significant historical opportunity as the construction of the Guangdong-Hong Kong-Macao Greater Bay Area is under construction.
The Mayor explained that Dongguan has actively provided services to key enterprises with efficient one-on-one personal services. For relocated integrated headquarters enterprises, the maximum one-time reward is 100 million RMB, of which 40% can be directly awarded to corporate executives. For high-quality foreign investment projects, enterprises can receive up to 250 million RMB rewards. As for high-end talents in enterprises, the city will provide the best services by issuing incentive bonuses, providing housing, solving children's schooling and living support, etc. Dongguan strives to form an atmosphere of respecting entrepreneurs, caring for entrepreneurs, and serving entrepreneurs in the entire society. Because of its good government services and image, Dongguan's government-business relationship health index has ranked No. 1 among nearly 300 cities across the country for approaching two consecutive years.