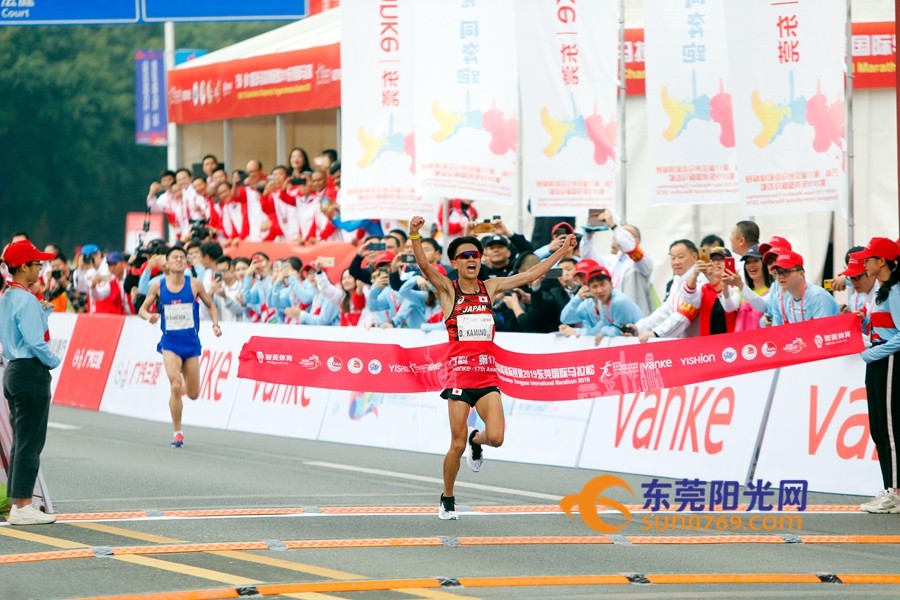 Japanese runner Kamino Daichi
The 17th Asian Marathon Championships & Dongguan International Marathon 2019 was held in Dongguan on Sunday morning.
After fierce competition in the 17th Asian Marathon, Japanese runner Kamino Daichi won the men's in 2:12:18, and Ri Kwang Ok from the Democratic People's Republic of Korea (DPRK) won the women's in 2:30:56. In the Dongguan International Marathon 2019, Chinese runner Liu Zhaoying took men's gold in 2:21:14, while Lin Jie claimed the women's title in 2:58:46.

This year, a total of 30,000 runners from 28 countries and regions took part in the event, which featured a full marathon (42.195km), half-marathon (21.0975km), mini-marathon (5.2km) and carnival fun run (2.6km), with participants numbering 6,000, 8,000, 10,000 and 6,000 respectively. In addition, 44 disabled participants competed using wheelchairs. 4 took part in the marathon, 6 in the half-marathon and the remainder in the mini-marathon.
The track began at Dongguan city's central square and went through Hongfu Road, Dongguan Avenue, Bayi Road, Songshan lake Avenue, Xincheng Road and Qinyuan Road. Participants can have a great view of the city during the course of the race.
To ensure participants' safety, the organizing committee set up 39 medical stations along the course manned by 515 professional medics. There were also 8,242 policemen, 4,170 security guards and 3,200 volunteers, including 460 volunteer medics, on hand to assist throughout the event.
(By Ashley Zheng and Sev Pischl)