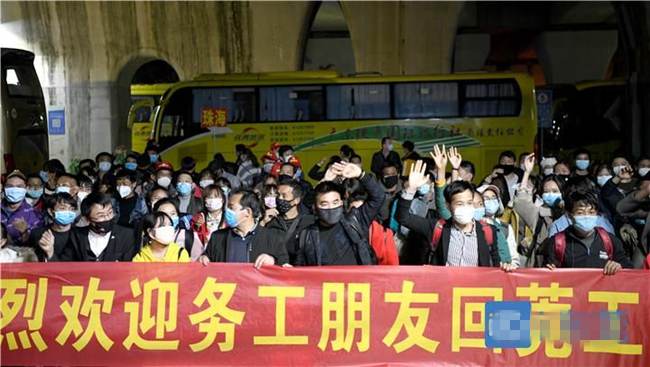 At 7:40 pm on February 19, six buses carrying 145 workers from Cenxi, Guangxi successfully arrived at Dongguan Wanjiang Bus Terminal after more than a five-hour journey. The Dongguan government sent chartered buses and special trains to bring migrant workers from their hometowns, mainly labor outflow regions, back to Dongguan to resume work.
This special trip was made possible with coordination between the Dongguan Bureau of Human Resources and Social Security (DBHRSS) and its counterpart in Cenxi, Guangxi. To ensure public health during the epidemic, each passenger was required to register in the Dongguan Healthcare QR Code System, with the assistance of a volunteer.
Upon arrival at the Dongguan bus terminal, the 145 employees were transferred to buses sent by the DBHRSS from different townships. Finally, they finished the door-to-door trip from their homes to their workplaces in 20 towns in Dongguan.
"I didn't know how long I would stay in my hometown. I signed up as soon as I heard about the chartered bus service that would take me directly back to my workplace in Dongguan. This government service really made us feel warm and gave us a sense of security." Mr. Huang, who works in Nancheng, said.
Miss Lu, who works in Huangjiang, returned to Dongguan on a bus with her fellow townsmen. She was supposed to start work on February 10, and as the days passed, she was worried about how she would get back to Dongguan.
She soon heard about the door-to-door pick-up service by the DBHRSS. She asked her fellow townsmen to sign up for the free bus service with her.
"I am very happy to get back to Dongguan smoothly, and I think the free bus service is very convenient and practical," Miss Lu said.