Foreign nationals well cared for at medical observation centre in Dongguan
With the domestic epidemic prevention and control situation improving, Dongguan's anti-epidemic focus is turning towards preventing imported cases from overseas. On 5th March, the West Lake Service Centre was officially opened as a centralized quarantine and medical observation site for foreign nationals who have, in the past 14 days prior to their arrival in Dongguan, visited one of the countries and regions hit hard by COVID-19.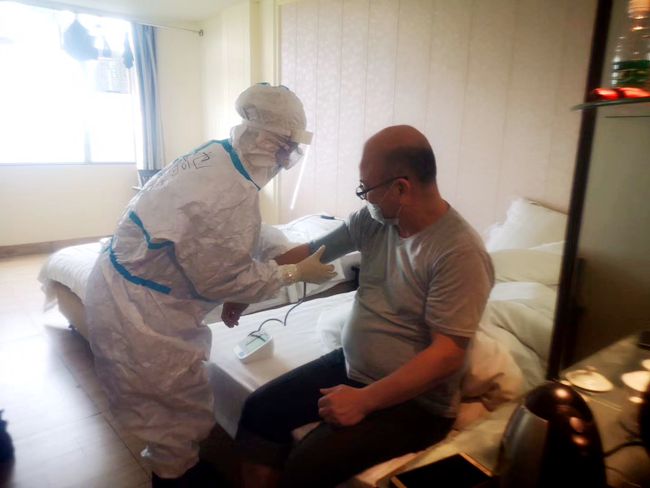 Medical staff monitor blood pressure for a foreign resident under quarantine.
As of 20th March, the centre has received a total of 78 people from Germany, Italy, Japan, South Korea, the United States, and other nationalities. The service centre has received praise for its closed-loop management and humanized service. Rooms in the quarantine area are equipped with daily necessities, internet, television, and brochures on epidemic prevention policies. "The service centre also provides children with puzzle toys, and flowers were presented to women under observation on International Women's Day," said Luo Weidong, Deputy Director of the Foreign Affair Office of Dongguan. As many of those under observation are from South Korea, the centre contacted the Korean Chamber of Commerce to prepare Korean dishes for them. In addition, pasta is prepared for Italian guests, while burgers and colas are booked for American guests.
Meanwhile, humanitarian care and psychological counselling is also a focus for the medical observation work group. WeChat groups with a staff member who can speak the related foreign language, a medical staff member, and a family member or friend are created to provide 24-hour 3 to 1 care services for those under observation. "If anyone tells us they are bored for lack of exercise in the room, the medical staff can also teach them how to practice Chinese health Qigong-Ba Duan Jin (or Eight-section Exercises) to improve their physical and mental health", said one staff member.