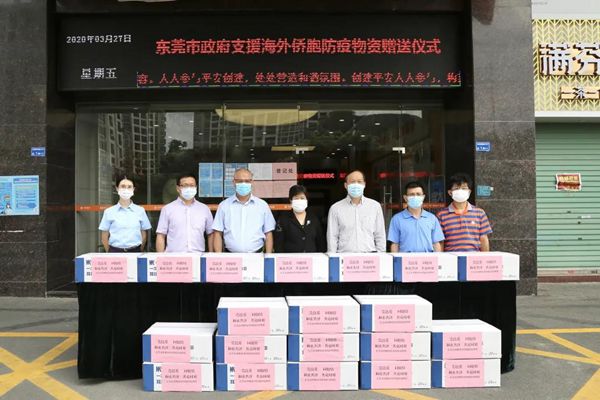 Dongguan Municipal Government held a donation ceremony in support of overseas Chinese in Dongcheng District on 27th March. At the ceremony the first batch of 50,000 masks donated by the city were handed over to Luo Aiwu (Chairman of the World Dongguan Entrepreneurs Federation in Canada). These masks have been sent to Canada, Australia, and the UK to help overseas Chinese solve the urgent need for epidemic prevention supplies.
A week earlier, the United Front Work Department and the Overseas Chinese Federation of Dongguan contacted Luo and learned about the shortage of epidemic prevention materials for overseas Chinese. Luo didn't expect his "hometown family" in Dongguan could have allocated a batch of masks for overseas Chinese within just a week. "Thanks to the Dongguan Government and my hometown people for solving our urgent needs," said Luo.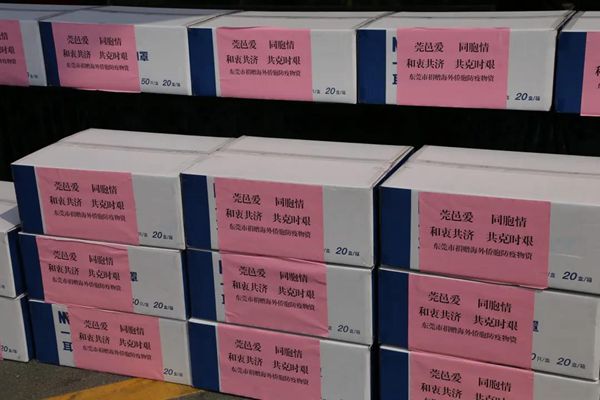 Since the outbreak of COVID-19, the United Front Work Department has maintained close ties with overseas Dongguanese groups to guide and assist them to do a good job in the prevention and control of the epidemic. Recently, after learning about the epidemic prevention needs of 50 overseas Dongguanese groups, the Department immediately reported the relevant situation to the Municipal Epidemic Prevention and Control Command of Dongguan. At present, Dongguan Government has allocated 300,000 disposable masks, which will be sent to 22 overseas Dongguanese groups and chambers of commerce in 12 countries and regions to support overseas Dongguanese and overseas students fight the epidemic.