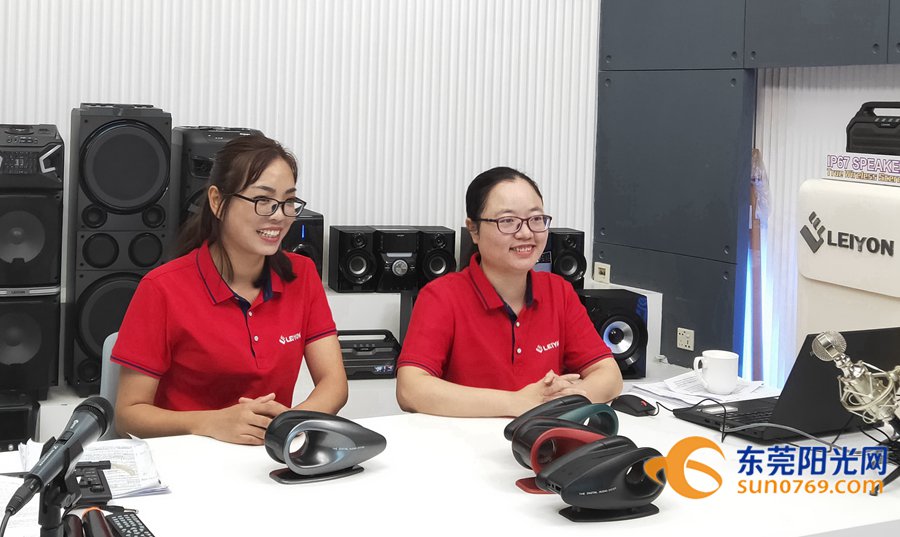 Two employees of Guangdong LEIYON Electronic Technology Co., Ltd livestream product promotion.
The 127th Canton Fair will be held online from 15th to 24th June. The Fair is an important platform for international trade and cooperation in China. This year the Fair will help foreign trade companies explore overseas markets by establishing a one-stop platform providing 24-hour services for online display, all-weather promotion, supply and purchase docking, and online negotiation.
According to statistics, a total of 190 Dongguan enterprises are participating in the Fair with 568 booths. 159 are production enterprises and 31 circulation enterprises.
A survey by the Dongguan Commerce Bureau shows that the new exhibition mode of the Fair poses challenges to 80% of the exhibitors in Dongguan who rely on offline orders and have never before tried online transactions. Due to the impact of Covid-19, this session of the Canton Fair is being held online for the first time. Many companies maintaining traditional order-taking lacked experience or skills in online marketing, and were having a hard time preparing for the online Canton Fair.
To help exhibitors effectively use the Canton Fair's platform to realise orders, the Commerce Bureau organized enterprises to join three online training courses held by the organizing committee in May. This course included an introduction of online Canton Fair functions, how to upload exhibit information, and how to make company videos and live-streaming rooms. These measures helped exhibitors make adequate preparations and create new opportunities in the Fair.