Liang Weidong meets with S. Korean Consul-General in Guangzhou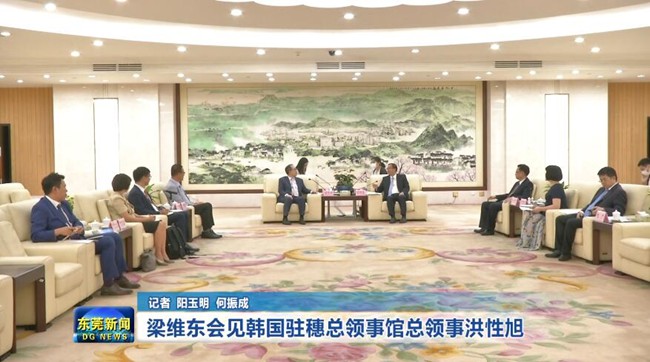 On 24th June, Liang Weidong (Secretary of the CPC Dongguan Municipal Committee and Chairman of the Standing Committee of the Dongguan People's Congress) met with Hong Sung-Wook (Consul General of the South Korean Consulate General in Guangzhou). Chen Zhiwei (Member of the Standing Committee of the Dongguan Municipal Party Committee and Director of the United Front Work Department of the CPC Dongguan Municipal Committee) attended the meeting.
Liang extended a warm welcome to the Consul-General and his delegation. He said that since the outbreak of the novel coronavirus pneumonia, Dongguan has been tackling the prevention and control of the epidemic with one hand, and the resumption of work and production on the other, which has achieved mixed results.
Although downward pressure on Dongguan's economy remains great, economic development is showing signs of recovery with some major economic indicators showing good momentum. During this period, Korean-funded enterprises in Dongguan have been strengthening cooperation with departments across the city to make important contributions to epidemic prevention and control as well as economic and social development. Dongguan will continue to support the development of Korean-funded enterprises in the city as it always has.
Liang also expressed his belief that with joint efforts on both sides, by grasping the development opportunities of the Guangdong-Hong Kong-Macao Greater Bay Area, development and cooperation will certainly advance to a new level.
Hong Sung-Wook expressed gratitude to Dongguan for giving help and care to Korean-funded enterprises and personnel in the city. He said that as one of the important cities in the Guangdong-Hong Kong-Macao Greater Bay Area, Dongguan has a large number of enterprises and a superior business environment. He believes Dongguan will enjoy further development and hopes to further strengthen exchange and cooperation to consolidate friendship.