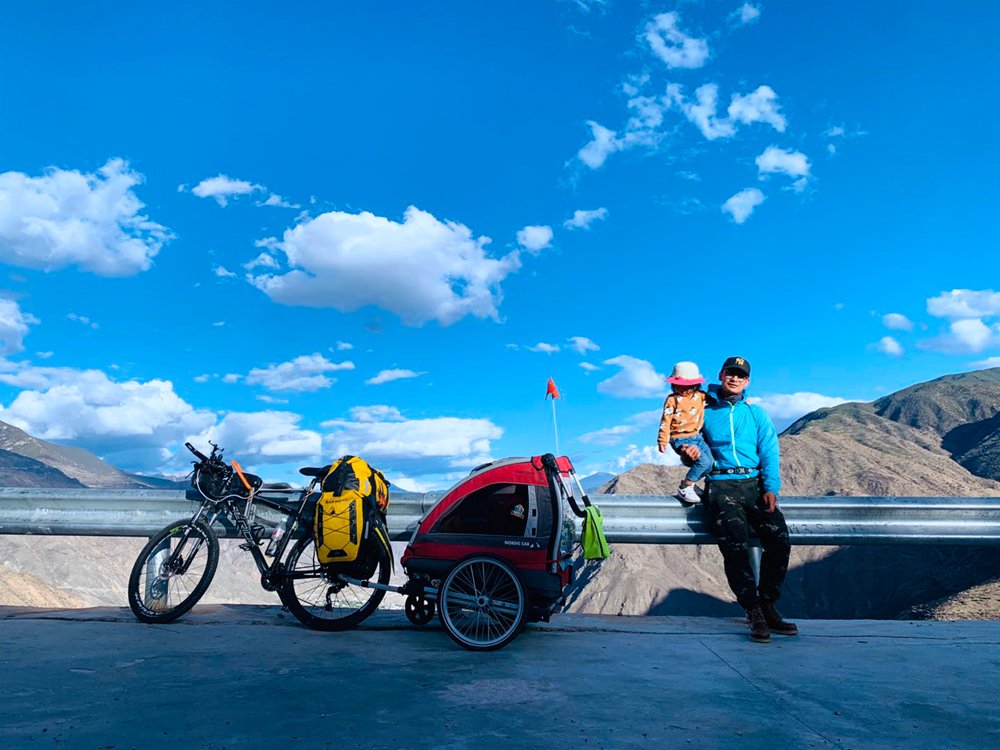 Dou Haobei and his daughter (Photo provided by Dou Haobei)
A father and daughter from Dongguan recently became a viral internet sensation when they completed an incredible and wonderful journey.
From 2nd April to 12th June this year, the post-90s single father Dou Haobei and his daughter completed a cycle ride from Dongguan to Lhasa in Tibet. The extravaganza took 72 days and the whole journey was more than 4,000km. The father and daughter crossed mountains, rivers, and enjoyed beautiful scenery all the way, creating unforgettable lifetime memories.
Dou said that he rode to Lhasa by himself when he was in college. At that time, he thought about "definitely going back to Lhasa later in life." However, he had never been able to relive the trip because of busy work and life demands. "This year, the sudden outbreak inspired me. My daughter was unable to attend school, and my business was stagnant. So, I made up my mind to ride to Lhasa with my daughter."
Having prepared all necessities, devising the route, and opened an account on popular short-video app Douyin, Dou began the journey from Dongguan riding his professional bicycle with a small trailer on 2nd April.
Attracting 500,000 followers
Dou's bicycle carried a load of 100kg as he brought many beautiful clothes for his daughter, as well as medicines, necessities, and various photographic equipment including drones.
"I wanted to record the beauty on this journey, so my daughter can relive this wonderful journey when she grows up." Dou said. Every day they arrived at a resting place, he would edit the works he shot that day and release them on Douyin. He had only a few hundred followers when he departed Dongguan, but now has more than 500,000 followers.
Dou said: "Children these days have lived in the city for a long time. The blue sky, white clouds, green grass, and red flowers they see are different from those in nature. I think, when teachers talk about these vocabularies in the future, my daughter will remember the beautiful blue sky, white clouds, grass and flowers she saw on our bike trip."