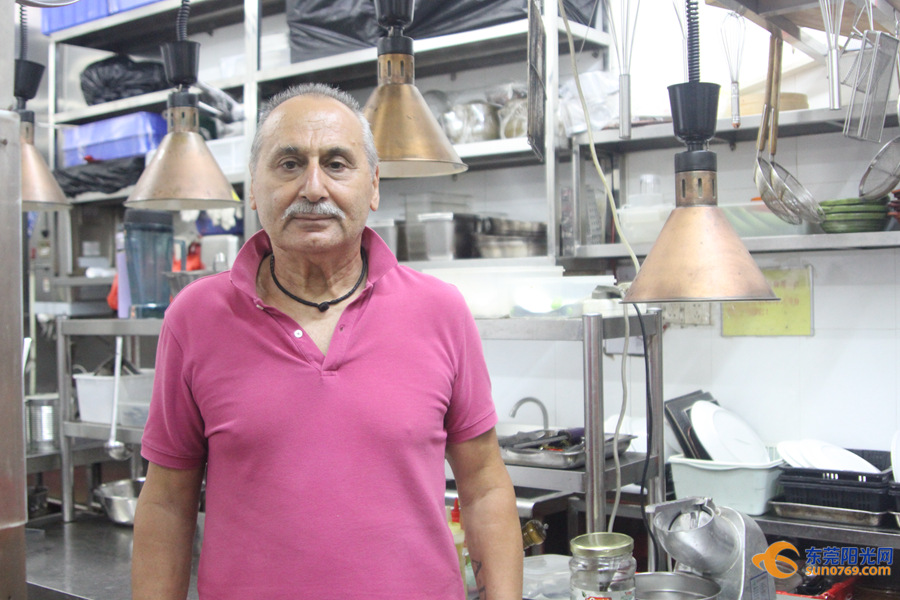 Salvatore
Boiled pasta topped with tomato sauce and garnished with green basil, Maccheroni is one of Italy's most prominent dishes. Maccheroni by Salvatore is a popular Italian restaurant in Dongguan among foreigners and locals. "I wanted everyone to know at a glance that we are an Italian restaurant, that's why I named it Maccheroni. It means Italy, so everybody understands", said Salvatore.

Satiate your taste buds with traditional Italian cuisine
Salvatore, who hails from Ischia, Italy, is head chef and owner of the restaurant. He started his cooking career when he was four. He jokes that he was born a chef. "My family in Italy has run a restaurant for many years. As far back as I can remember, I spent almost every day in the kitchen with my family." Salvatore explained his roots are a small island near Napoli. On the island, there are no factories, but there are some hotels, bars and restaurants. Even in childhood, they all know they must learn one of three careers: to be a barman, a waiter or a cook. "I enjoyed doing dishes and I liked to cook."
Having lived in Dongguan for more than 10 years, he's always insisted on making traditional Italian food. Although in his seventies, he still spends hours in the kitchen. Early in the morning Salvatore arrives at the restaurant and remains until 23:00. He maintains this routine every day, all the year round, except for when he returns to Italy twice a year for holidays. First on his routine is to check and monitor hygiene throughout the kitchen and restaurant. Only then will he enter his territory, the kitchen, to begin crafting his dishes. Despite an increase in the proportion of Chinese customers, the kitchen continues to serve only Italian cuisine. "I do not make things complicated, no fancy, luxury dishes. We are an Italian restaurant, offering authentic Italian cuisine." He spoke about there being plenty of good Chinese restaurants, but not many Italian restaurants. So he wants to provide an authentic Italian experience so locals can enjoy a different taste of a different culture.
He and his lady Christine opened their first restaurant in Houjie town in 2009. He pursues perfection in quality dishes. To guarantee original taste and flavour, he insists 100% of food, wine, and equipment are imported from Italy. Even the pizza oven originates from Italy, from his home hometown near Napoli. "If you want to make authentic Italian food, you need Italian ingredients and equipment. Otherwise it's not the same." Thanks to his meticulous attitude, more and more food lovers visit Maccheroni to enjoy the cuisine. The first restaurant became so busy that they decided to open another. In 2013, their second opened in Dongcheng.