Two packaging samples of imported frozen food tested positive for COVID-19 in the city of Dongguan, the Dongguan Center for Disease Control and Prevention (hereinafter "Dongguan CDC") announced on November 21.
On November 21, Shatian Town in Dongguan City carried out a standardized risk-monitoring checks of imported cold-chain food. After assessment by the Dongguan CDC, it was found that the outer packaging of one chicken wing imported from Argentina (product batch NO.: BDAICA) and frozen chicken feet imported from Russia (product batch NO.: 2308) tested positive for COVID-19 after nucleic acid tests.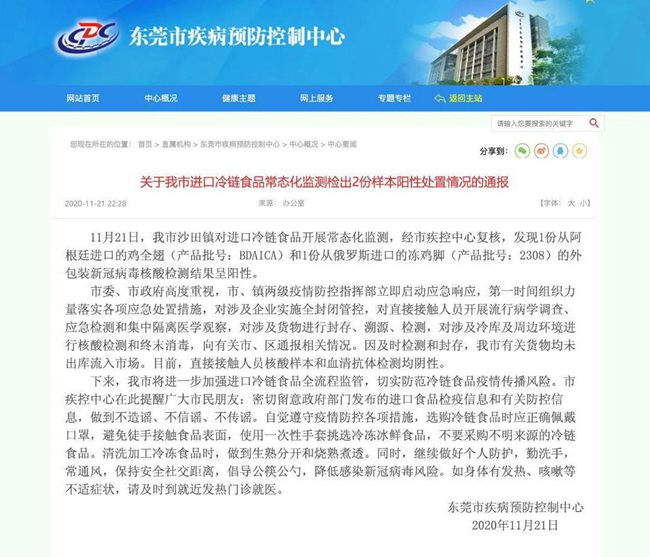 The COVID-19 Prevention & Control Command of Dongguan City and Shatian Town immediately initiated an emergency response and took measures including implementing closed-loop control of the enterprises involved, quarantining persons directly contacted, and sealing the involved goods. Nucleic acid testing and terminal disinfection have been conducted on the cold storage and surrounding area.
The Dongguan CDC stated that none of the relevant goods had entered the market in the city due to timely testing and sealing. According to a latest announcement made by the authority Sunday morning, as of 8am on November 22, a total of 852 samples have been collected from personnel, cold storages and outer environments, all tested negative for COVID-19.
The CDC reminds the general public to wear masks and avoid touching food with bare hands when purchasing of cold-chain food. People are advised to use disposable gloves when touching frozen food, and not to purchase cold-chain food from unknown sources. When cleaning and processing frozen food, separate raw and cooked food and cook them thoroughly. Meanwhile, continue paying attention to personal protection by washing hands frequently, ensuring regular ventilation, maintaining safe social distancing, and using serving chopsticks and spoons to reduce the risk of contracting the virus.