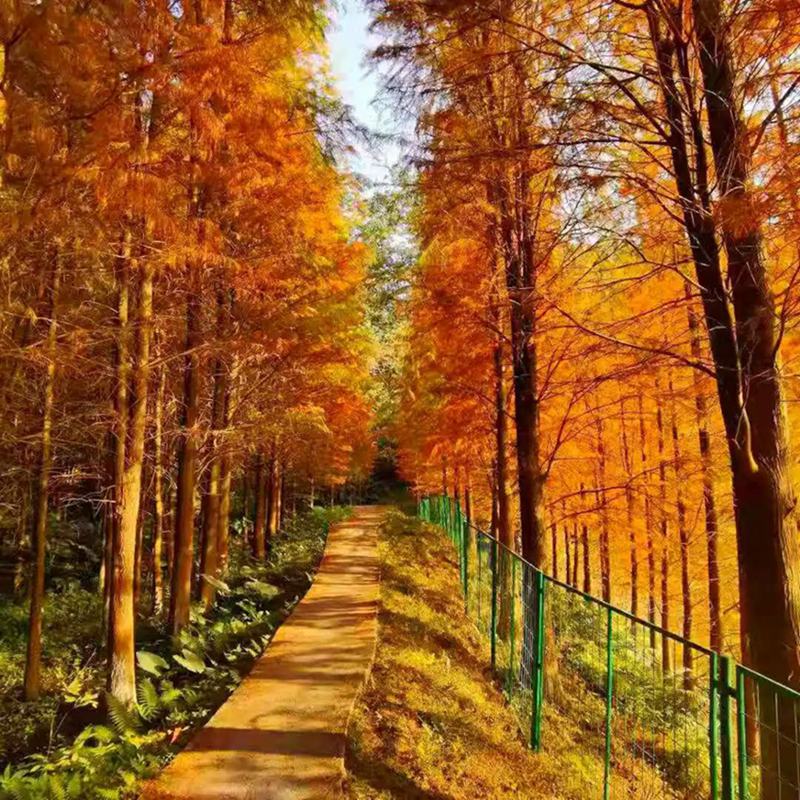 Gorgeous! Recently, the colorful forest at the experimental base of forestry research institute in Dalingshan Forest Park has been "dyed"! Let's take a look.
The large stretch of bald cypress at the base of the mountain have changed color. Bald cypress trees are distributed by the lake, forming a beautiful scene. Native to North America and Mexico, the bald cypress can be found to the south of the Yangtze River in China. It is known as the "beauty of the four seasons" as it grows in a light green shade in spring and summer, turns into yellowish green in autumn, and red in winter.
According to an official from the forestry research institute, over 10 years ago, the institute cultivated more than 70 colorful tree species on more than 1,580 mu (1,053,333 ㎡) of hills in Dalingshan Forest Park. One of the most unique sceneries is the cypress woods by the lake, where relatively large-scale planting of bald cypress woods took place. After more than 10 years of cultivation, these species of trees have become relatively mature. This colorful forest has been opened free to the public since 2012.
In addition to the experimental base, there are also other red leafed trees in the Park, such as maple trees, mountain tallow trees, sumac trees. As the temperature drops, the leaves begin to turn different tints of yellow and red.