First special China-Europe freight train for home appliances departs Dongguan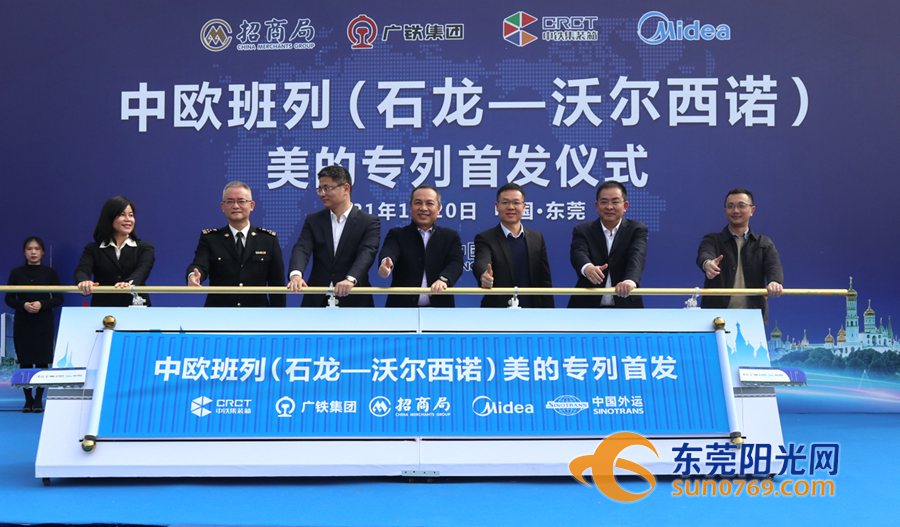 The launching ceremony of the special China-Europe freight train for Midea Group products is held on January 20th,2021.
A China-Europe freight train carrying 50 containers with home appliances such as water heaters and dishwashers, departed from Guangdong Railway International Logistics Base in Shilong, Dongguan on January 20th, heading to Russia.
Traveling 11,116 kilometers, the train is expected to arrive in Moscow, Russia in about 15 days, which is two-thirds shorter than the shipping time.
According to Guangzhou Railway Group, it is the first customized export train for a local home appliances company since the establishment of the China-Europe freight train in Guangdong province. The entire train is loaded with only Midea Group products.
Due to the pandemic, international shipping has been drastically reduced, causing difficulties to foreign trade exports for many companies. Midea Group's export products are manufactured and processed products, which require fast, stable, and uninterrupted transportation. The customized China-Europe freight train launched this time transformed the company's home appliance exports from "car-sharing" to a "specialized one".
To further facilitate customs clearance of China-Europe freight trains, Dongguan Customs reformed the container sealing process, using systematic monitoring and manual inspections as means to further simplify the customs clearance procedure, which was shortened by more than half. "Usually customs clearance for exports can be completed in less than half an hour," said Lin Jing, Deputy Commissioner of Dongguan Customs.
According to statistics, Guangdong Province has launched 686 China-Europe freight trains with 61,324 TEUs in 2020, with a value of up to 3 billion U.S. dollars, providing a safe and stable international transportation channel for enterprises in the Guangdong-Hong Kong-Macao Greater Bay Area.