24 A-level attractions see 920,000 visitors during Spring Festival holiday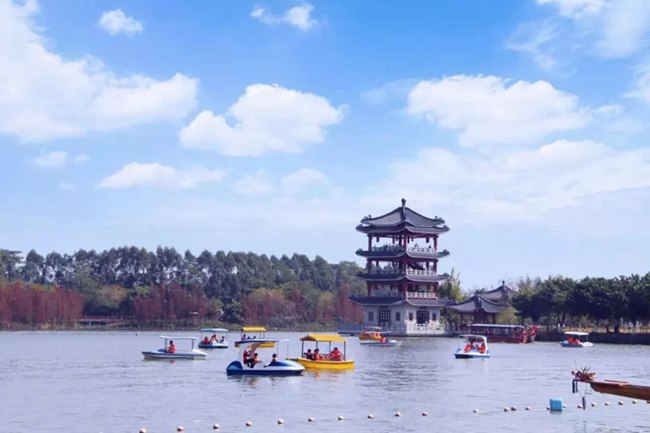 Huayang Lake National Wetland Park

How did you spend the Spring Festival holiday? As people were encouraged to staying put for this year's Spring Festival holiday, travelling within the city became popular with its diverse choices, including visiting cultural exhibition halls, forest parks, theme parks, parent-child eco-farms, viewing flowers in parks, and vacations at resort hotels.
According to data released by the Dongguan Municipal Bureau of Culture, Radio, Television, Tourism and Sports on February 18, 24 A-level tourist attractions in the city received 920,000 tourists during the Spring Festival holiday. Among them, Songshan Lake scenic area received 190,000 tourists, Opium War Museum 123,800 tourists, Huayang Lake National Wetland Park 105,000 tourists, Yinpingshan Forest Park of Qingxi Town 96,000 tourists, Dawangshan Forest Park 80,000 tourists, and Changping's Yinxian Villa 72,300 tourists.
Travelling within the city or neighbouring towns has become the primary way to spend this year's Spring Festival. The main scenic spots in Dongguan welcomed massive amounts of tourists during this period, most of whom were residents in Dongguan. Several major theme parks in the city also saw an increase in tourists. The Gumei Ecological Agriculture Park in Machong Town saw about 2,000 visitors daily, double that of ordinary days. From the first to the sixth day of the Lunar New Year, the total number of visitors to Longfeng Villa reached more than 50,000. Visitors to Yinxian Villa reached more than 70,000.
Suburban resort hotels also made a good income. This year, as residents in Dongguan are more willing to reward themselves with a staycation at hotels, the average price of hotels increased compared with previous years.
As regards the types of scenic spots, in addition to viewing exhibitions in traditional cultural exhibition halls and participating in activities held at cultural venues, botanic gardens, eco-parks, country parks, and flower viewing areas also became hot spots. During the Spring Festival, residents in the city also discovered less popular scenic spots and posted pictures in WeChat Moments to attract their friends and relatives to travel together.