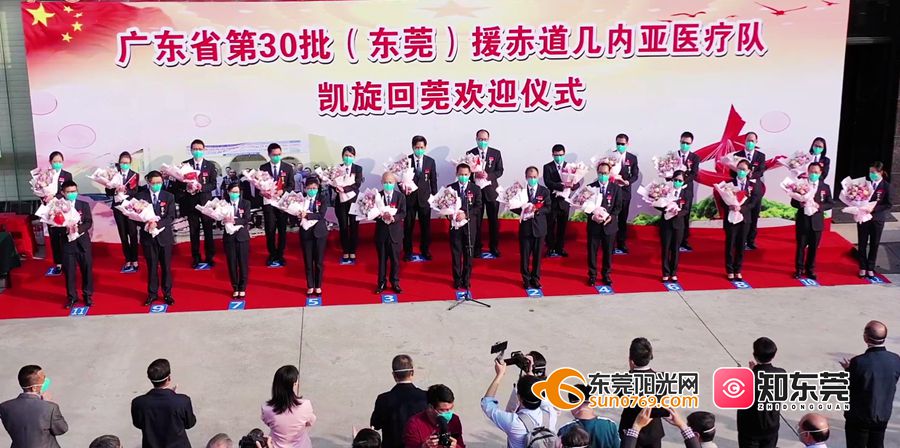 A welcoming ceremony for the Dongguan medical team aiding Equatorial Guinea is held on February 19, 2021.
The 30th batch of China's medical aid team to Equatorial Guinea dispatched by Dongguan arrived in the city on February 19. It took the team 14 days to travel across three continents before returning home with honour.
The 25 -member team departed China on July 5, 2019, and ended its mission on January 28, 2021. 24 members are returning home this time, with one chef voluntarily applying to stay in Equatorial Guinea and contributing to China's foreign aid medical cause.
In the past 19 months and nearly 600 days, the medical team has carried forward the spirit of "fearing no hardships, willing to contribute, and saving lives with boundless love". They made unremitting efforts for the life, safety and physical health of the people of Equatorial Guinea, which won widespread praise in the country. Before they left, Equatorial Guinea's President Teodoro Obiang Nguema Mbasogo signed a presidential decree on February 1 to award the team the Medal of the Nation, which is the highest state honour.
Li Jun, deputy mayor of Dongguan, welcomed the team to return in triumph at the ceremony. She sent the New Year blessings to all the member and gave a warm welcome and heartfelt thanks to them on behalf of the municipal government. Li spoke highly of the achievements of the medical team and praised the members for "building a bridge of friendship between China and Africa with superb medical skills and a benevolent heart."
Per the domestic quarantine policy for COVID-19, the medical team will undergo a 14-day centralized quarantine at a designated hotel and a 7-day health observation in the community. They will have to wait until everything is fine 21 days later to reunite with their families.