Starting from April 10th, the Guangzhou Railway Group will implement a new train that connects Foshan-Zhaoqing Intercity Railway with Guangzhou-Shenzhen Intercity Railway for the first time. Meanwhile, it will be more convenient to take the Dongguan-Huizhou intercity train and transfer to Zhaoqing City in the midwest of Guangdong province via Dongguan Xi (West) Railway Station (in Hongmei Town).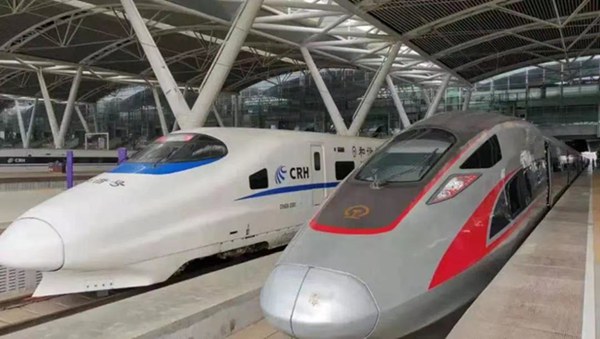 As an essential part of the Guangdong Province's transportation network, Foshan-Zhaoqing Intercity Railway, Guangzhou-Shenzhen Intercity Railway, and Dongguan-Huizhou Intercity Railway have gradually become the first choice for travellers along the route. After implementing the new connections, the trains of Foshan-Zhaoqing Intercity Railway and Guangzhou-Shenzhen Intercity Railway will run across the line, connecting the six cities of Zhaoqing, Foshan, Guangzhou, Dongguan, Shenzhen and Huizhou.
"The new plan arranges 11 pairs of cross-line trains between Shenzhen Airport and Zhaoqing every day. Passengers do not need to transfer again and can quickly reach Zhaoqing from Dongguan, making travel more convenient as it will save time and money," a staff of Dongguan West Railway Station stated. The first train from Dongguan Xi (West) Railway Station to Zhaoqing is C6828 (departing 7:47 am), and the last is C6864 (departing 20:19); while the first train from Zhaoqing to Dongguan Xi (West) is C6862 (departing 7:22 am), and the last is C6858 (departing 18: 50). "It will be more convenient for passengers along the Dongguan-Huizhou Intercity Line to transfer to Zhaoqing through Dongguan Xi (West) Railway Station."
In the future, with the operation of the Foshan-Dongguan Intercity Railway, the service capacity of the intercity railway will be greatly improved. According to the changes in passenger flow, the intercity train operation plan's continuous dynamic adjustment will significantly facilitate connections between cities like Foshan, Guangzhou, Dongguan, Huizhou, Shenzhen, and Zhaoqing.