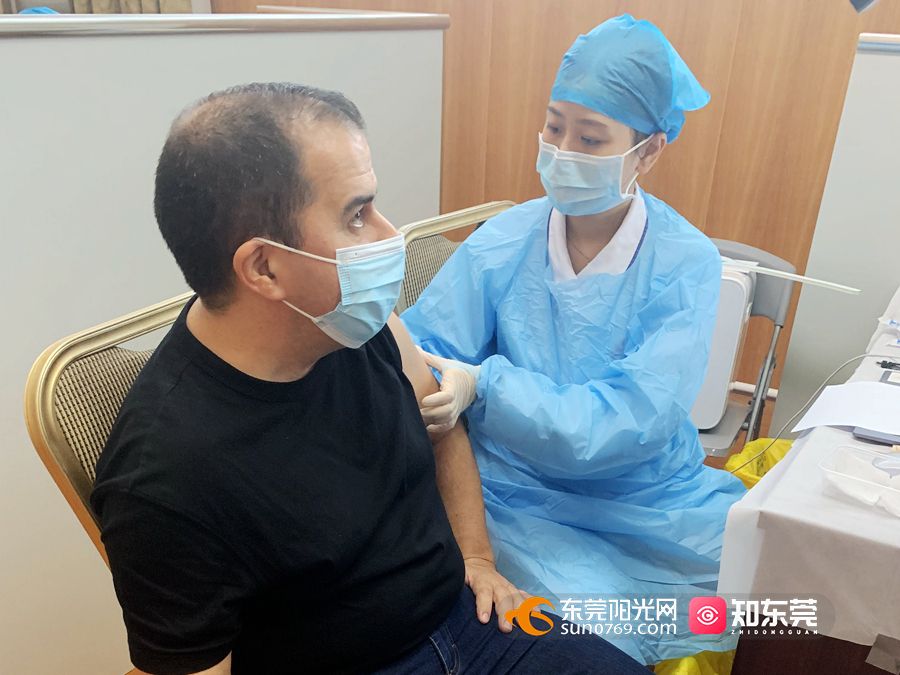 An expat receives COVID-19 vaccine inoculation at the hospital.
Starting from April 12, foreign nationals in Guangdong Province can apply to receive COVID-19 vaccination once they are well-informed, signed up voluntarily, self-funded, and acknowledge possible risks/side-effects related to being vaccinated.
Dongguan has started inoculation with domestic COVID-19 vaccines for expats of proper ages from this week. According to the guidelines released by the Office of Leading Group for Vaccination Work of COVID-19 in Dongguan City, foreign nationals aged between 18 and 59 in Dongguan are eligible for COVID-19 vaccination. Under certain and specific circumstances, the vaccines can also be administered to people aged above 60 who are in good health.
The vaccine could engage the body's immune response against COVID-19 and could be used to prevent diseases caused by COVID-19.
On April 15, several expats with reservations completed the first dose of vaccination at Dongguan People's Hospital's designated site.
"I made the online reservation two days ago. It was swift and very convenient. The program runs smoothly," a recent vaccine recipient from Canada Jihad Wehbe said.
Paulo Flor, a recipient from Brazil, told the reporter: "I didn't feel anything. It was very comfortable. The nurse was very nice. I think it will be a protection for me, the company and my family."
The current vaccines used in Dongguan are inactivated COVID-19 vaccines made in China, and two doses are required for the whole process. Foreigners who have joined the social, medical insurance scheme of Guangdong Province can take the vaccine for free, which is the same as the insured Chinese citizens. Otherwise, they need to pay 100 RMB per dose. As the vaccine is applied for delivery based on reservation, those who fail to make a reservation in advance will most likely not get a vaccination at the inoculation site.
Expats in Dongguan need to confirm the notification by SMS and the QR code of the reservation and bring their permanent residence ID card or their passport with a valid residence permit to the Dongguan People's Hospital for vaccination at the appointed time. The vaccination clinic opens every Tuesday and Thursday from 15:00 to 17:00.
(By Susan Su and Wenjun Chan, DGRTV)