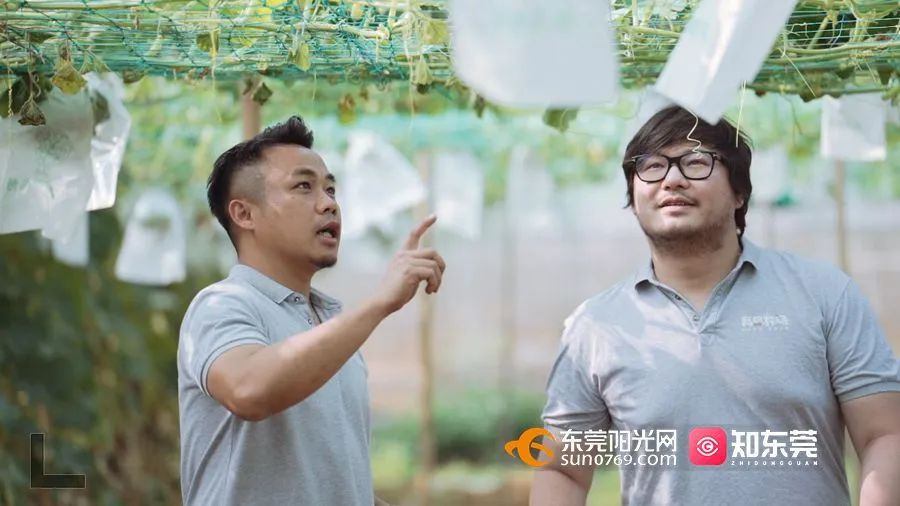 Huang Huiming (L) and his partner at the farm

More and more youth from Hong Kong and Macao have started their businesses in Dongguan in recent years. In Qishi Town, a Hong Kong youth born in the 1980s gave up his family's overseas business and returned to his hometown to start a business in the field of modern agriculture.
Return hometown from the US to build a new type of farm
In 2014, the 31-year-old Huang Huiming graduated from a university in California, USA. Giving up his job in overseas electronic product sales in the family business, he devoted himself to modern agriculture. He studied bio-fertilizer and water-saving irrigation technology in Israel and Taiwan, China. In early 2018, Huang invested 4 million yuan in Dongguan, his ancestral hometown, to build a new-type farm that integrates modern planting, entertainment and leisure.
Speaking of the reasons for giving up metropolitan life and returning to the countryside to start a business as a farmer, this bronze-faced young man said that he missed the golden opportunity to build his hometown as he left here since he was a child. Now he hopes that he can give back to the city by doing some different projects, through which he can fully display his talents and bring a green, healthy life concept to his hometown fellows.
Applying modern agricultural business model to other farms
After two years of operation, the farm with 100 mu (about 66,666 ㎡) offered 15 villagers jobs near their home, explored modern agricultural management models for circular development and achieved a stable source of income.
"The farm uses modern planting and cultivation techniques. It can produce grapes and dragon fruits in summer, strawberries and grapes in winter. Fruits and vegetables are available all year round. Our products are green and healthy. Despite the high prices, they enjoy good sale in the market and therefore are always in short supply," said Huang.