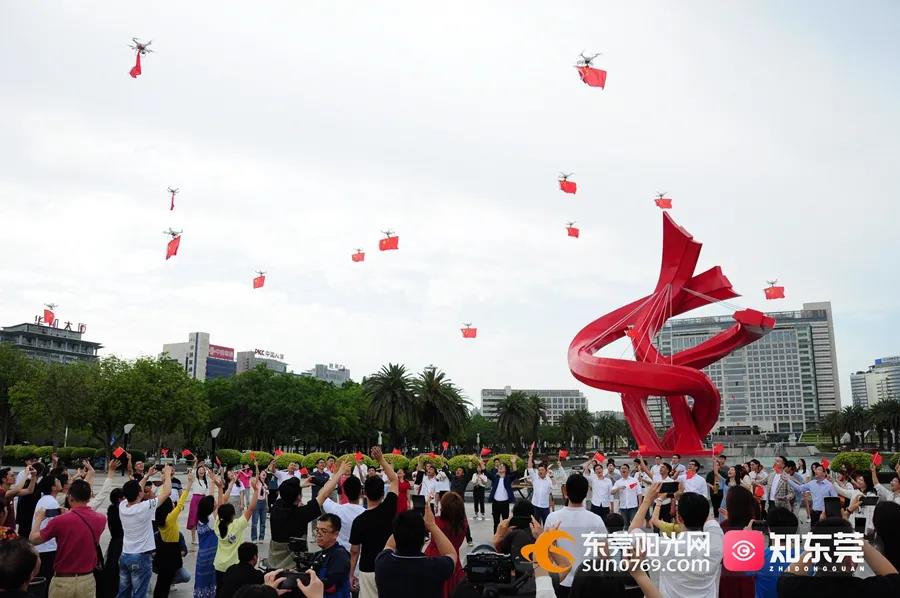 The flash mob video was filmed at Dongguan Central Square ahead of the National Youth Day.
"My motherland and I can't be separated for a moment. Wherever I go, I will have a song of praise..."
To celebrate China's Youth Day, youth flash mobs with the theme of "Greater Bay Area · Greater Future" were held in 11 cities, linking the special administrative regions of Hong Kong and Macau with the Pearl River Delta. Youngsters sang to express their enduring love and good wishes for the motherland.
At 10:00 am on May 4th, the "My Motherland and Me" flash mob event hosted by the Publicity Department of Dongguan to mark the Youth Day was aired on the CCTV News app. Hundreds of youth representatives from all walks of life in Dongguan used melodious singing notes to bless the CPC and motherland. The performance was also displayed on LED screens across the city.
The event was attended by youth representatives from various industries, including scientists, youths from Hong Kong and Macau, migrant workers, literary and art workers, medical staff, and Dongguan Radio & Television Station hosts. It also incorporated elements such as Cantonese opera and rap to fully demonstrate the fashion, vigour and vitality of youngsters in Dongguan.
"Through the activity, we can express the love for our motherland as young people in the Guangdong-Hong Kong-Macao Greater Bay Area," said Xu Mingda, a Macau youth who participated in the flash mob. "I came to Dongguan from Macau for development. I think the investment environment in Dongguan is excellent. I hope to convey this message to Hong Kong and Macau so that more youth from Hong Kong and Macau will come here to start their businesses."
Hong Shaojun, a young entrepreneur from Hong Kong, has lived in Dongguan for 13 years and currently runs a business in Songshan Lake. He considered this a fantastic event that can sufficiently express the patriotism of the young people in Dongguan, Hong Kong and Macao. "Dongguan is a very young, energetic and pragmatic city," Hong said that he will continue to promote Dongguan to Hong Kong youth in the future so that more Hong Kong youth can develop in the motherland. "There are many opportunities here," Hong added.
"As a new force of the younger generation, we should work hard to learn skills. Only in this way can we better serve the country and the Greater Bay Area so that the country will have more stamina to move forward like a big ship," said Liu Binteng, a college student in Dongguan.