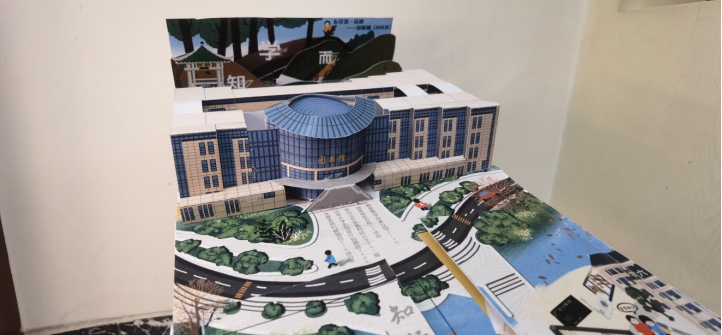 "CCDUT Memories" pop-up book
Recently, a pop-up book made by two former students of City College of Dongguan University of Technology (CCDUT) has attracted significant attention. Many people say that they have never seen such an interesting pop-up book.
The pop-up book, named "CCDUT Memories", involves many landmark buildings of the college and scenes students may experience during their college life. The book starts at the college's main entrance, passes through the administration building, the library, the clock tower and the comprehensive hall, and the moment of graduation, showing the college life of the students from entering the college for the first time to attending the graduation ceremony. When you open this book, you can appreciate the unique beauty of the college and enjoy the stories of students growing up.
The pop-up book creators are Liu Weisi and Yang Guiping, two graduates of CCDUT of 2016. As for the original intention of creation, Liu said that when he saw the pop-up acceptance letter of Tsinghua University on the Internet, he fell in love with it and bought a copy of the same greeting card. Looking at the exquisite three-dimensional structure, Liu conceived the idea of designing and creating a pop-up book for his Alma Mater, too.