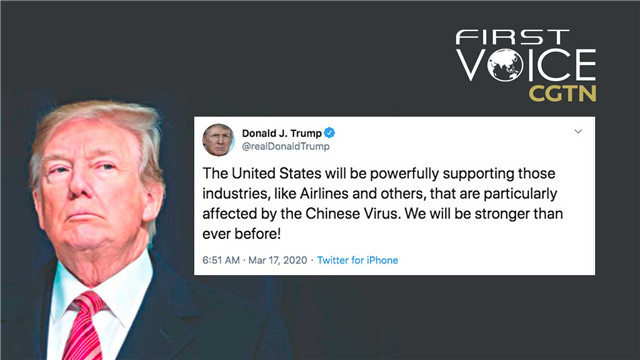 U.S. President Donald Trump labeled the COVID-19 as "the Chinese Virus" in a tweet, on March 17, 2020.
Editor's note: CGTN's First Voice provides instant commentary on breaking stories. The daily column clarifies emerging issues and better defines the news agenda, offering a Chinese perspective on the latest global events.
On March 17, U.S. President Donald Trump tweeted, "The United States will be powerfully supporting those industries, like Airlines and others, that are particularly affected by the Chinese Virus. We will be stronger than ever before! "
This was the first time that the U.S. president has publicly labeled the COVID-19 as "the Chinese virus." Reactions followed through and his affirmation was met with wide criticism, as many of his followers from different countries began to label him as "the American virus."
Eugene Gu, founder and CEO of Coolkit, replied to Trump saying, "I've been deathly afraid of this exact moment where Trump turns to racism and xenophobia and calls COVID-19 the 'Chinese Virus.' We are in deep trouble as a nation now that President of the United States makes the conscious decision to go down this dark path of hate."
That is absolutely right. First and foremost, Trump's tweet is open racism. For some time, there are many U.S. mainstream media and the Democrats blaming him for racist words and expressions, but every time he denied it. However, from this tweet, we have clearly seen his real side, and we as Chinese, demand a formal apology.
Second, it is open xenophobia. In a global pandemic like this, the only fear should be from the virus itself, not from a country. In fact, China's efforts to fight the virus have been recognized by many heads of state as well as doctors and medical experts from around the world.
There's no need to fear China at this stage when China has made great progress treating the disease. Newly confirmed domestic cases from a day ago fallen to less than 40, while the newly confirmed cases abroad have risen to nearly 7,000.
Jonathan Arnott, a former member of the European Parliament, said in the article "Attacking China won't help the West defeat COVID-19" that instead of blaming China for it, it is time to ask why China contained the virus with unprecedented experience from other nations and the rest of the world has not contained it even with China's experience at first hand.