From Sunday to Monday morning, due to the effect of Typhoon Sinlaku, Guangdong has witnessed heavy rain and lots of isolated rainstorms in its southern cities, with (thundery) showers accompanied by short-term strong winds in the remaining cities. Although Sinlaku has weakened and gradually moved away, the southwest monsoon cloud cluster it brought still brings some sunshine and showers to most areas of Guangdong.
Continuous heavy rain is expected to sweep across Guangdong from August 3rd to the 5th, with rainfall to increase significantly from the night of August 4th and weaken in the daytime of August 6th. The specific forecast is as follows:
During the daytime of August 3rd and the 4th, there will be heavy rains in southern cities and counties, downpours in coastal cities and counties, and (thundery) showers in other cities and counties. Thunderstorms will come with gale-force winds. Most cities in northern Guangdong will see highs of 32℃~34℃, with some to see a high temperature of 35℃. The remaining cities across the province will see highs of 28℃~31℃.
During the night of August 4th and the 5th, the Pearl River Delta, eastern Guangdong, western Guangdong, Heyuan, and Meizhou are forecast to see rainstorms and isolated torrential downpours. Overall, other cities will see heavy rains and rainstorms, with a chance of isolated torrential rains. Maximum temperature: 30℃~32℃ in most cities and counties of northern Guangdong, and 27℃~29℃ in other cities and counties.
On August 6th, western Guangdong will see heavy rain, with a chance of showers. Other cities and counties are predicted to see showers. Maximum temperature: 31℃~33℃ in most cities of northern Guangdong, and 28℃~30℃ in other cities across the province.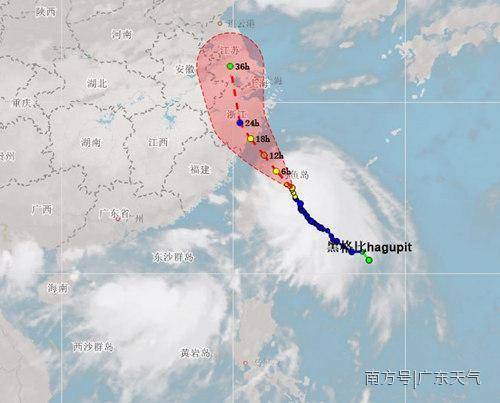 According to Xinhua, China's national observatory on Monday issued a yellow alert for Typhoon Hagupit, the fourth of this year, which is forecast to make landfall on the coastline between Zhejiang and Fujian as a severe tropical storm on Monday night. It will not affect Guangdong.
6-Day weather forecast for Guangzhou
August 4th (Tuesday), cloudy, steady rain with a chance of heavy rain, 26-32℃
August 5th (Wednesday), cloudy, downpour with a chance of isolated torrential rain, 25-29℃
August 6th (Thursday), cloudy, heavy rain, 25-32℃
August 7th (Friday), cloudy, scattered thunderstorm, 26-33℃
August 8th (Saturday), cloudy, scattered thunderstorm, 26-34℃
August 9th (Sunday), cloudy, short-term thunderstorm, 27-34℃